Editor: The Revd Canon Derek Earis
Contents
---
LETTER FROM AN (UNOCCUPIED) VICARAGE by Revd Kingsley Boulton, Deacon
Dear Friends,
Last month's theme of Thoughts from Abroad brought back memories of various holidays I have enjoyed in the past. This month's theme of Reconciliation has focused my memories on particular churches in Germany I have visited which, like our own St Martin's in York, are partners of the Community of the Cross of Nails. Prior to the lockdown we held prayers each Friday at noon, concluding with the Coventry Litany of Reconciliation. (These are now produced in text form each week and posted on https://www.achurchnearyou.com/church/18967/news/).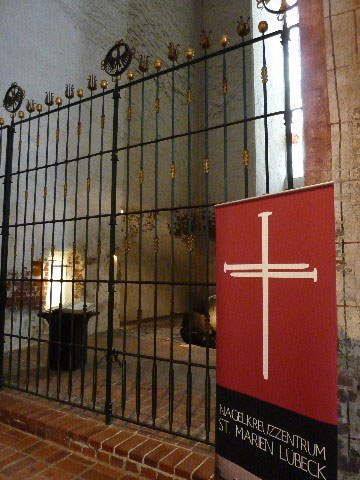 At St Martin's we have fostered a link with St Mary's Church (Marienkirche) in Lübeck in northern Germany, and a group of us was originally planning a visit to our friends there in September. Perhaps we may have better luck next year. Two years ago I attended an International Gathering in Coventry where I was able to meet Cross of Nails representatives from a number of countries, including Germany. However, over the last few years as part of my trips to Germany I have been able to join in Friday prayers in Cross of Nails churches in Berlin, Leipzig and Nuremberg, as well as visiting other partner churches in Cologne, Dresden, Erfurt, Hamburg and Potsdam.
My particular interest in Germany stems from studying French and German at university rather longer ago than I like to admit. During my course I spent an academic year at a German boys' grammar school as an English language assistant. I very much valued that opportunity to live in another country and experience a different culture. It also confirmed that whatever career I was to choose it would not be teaching. Though my subsequent work as a librarian did involve some teaching in information skills. So I did not completely escape.
Later in this issue I offer some reflections on reconciliation, which I hope will be found helpful.
All my best wishes,
Kingsley
---
RECONCILIATION by W. B. Yeats (1865-1939)
SOME may have blamed you that you took away
The verses that could move them on the day
When, the ears being deafened, the sight of the eyes blind
With lightning, you went from me, and I could find
Nothing to make a song about but kings,
Helmets, and swords, and half-forgotten things
That were like memories of you--but now
We'll out, for the world lives as long ago;
And while we're in our laughing, weeping fit,
Hurl helmets, crowns, and swords into the pit.
But, dear, cling close to me; since you were gone,
My barren thoughts have chilled me to the bone.
---
NOBLE VISIONS AND WISE WORDS –
CAN THEY BECOME REALITIES? by Monica Lawrence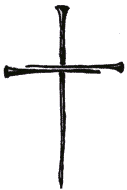 I expect you have noticed the Cross that Archbishop Justin wears – a wearable version of the Cross of Nails! This Cross has become an international Christian symbol of reconciliation. Reconciliation is one of his priorities.
"He has a vision for the Church to be a reconciling presence in the midst of conflict" (Reconcilers Together)
A noble vision!
To help make that vision become a reality, Reconcilers Together www.reconcilerstogether.co.uk was formed in the UK and Northern Ireland by individual reconciling organisations coming together who were already working individually. By collaborating, and forming a network, they haven't lost their individual identities, nor lost control of what they were doing or continue to do. It wasn't a take-over! The upside of forming this network is they're now all in a much stronger position to make their common purpose of reconciliation more of a reality nationally – maybe in the wider world as well! Together, they're providing training and inspiration for church leaders and communities to become 'reconciliation hubs.'
Archbishop Justin says: "Reconciliation is not the ending of all difference, but the transformation of how we deal with difference."
Wise Words!
The Reconcilers Together website gives info about this ecumenical network and what's on offer to help us all become reconcilers. I like the blog page. But if you click on The Archbishop of Canterbury's Reconciliation Ministry, then Difference, you can find out about a course that "explores what it means to follow Jesus in the face of conflict and see transformation through everyday encounters." It's a 5 session course designed for large and small, new and existing church-based groups, online, or in person. It includes:
Films – stories from Christians facing conflict
The Bible – Jesus dealing with difference and division
Interactive exercises
Prayer
Discussion
You don't have to be a church or reconciliation leader to join the Reconciliation Leaders Network! So when I found out about it (can't remember where or when exactly), I signed up as an individual, to see something of the big picture; what's going on and anything on offer.
Early this Summer I also signed up for three webinars run by the Difference team, www.difference.rln.global members of the Reconciliation Leaders Network, that's part of Reconcilers Together. What struck me was the theological awareness, enthusiasm and creativity that these young people are putting into reconciliation. I think they are amazing! They come over as affirming, dedicated, open minded, keen to learn, with a sense of humour. It was great just to see and listen to them.
Each webinar started with a few moments of quiet, ending with the Encounter Prayer (see below). Biblical quotes, plus quotes from a broad range of theologians and thinkers – people with noble visions and wise words – eg: Henri Nouwen, former Archbishop Rowan Williams, AW Tozer, René August, Tolstoy, Fr Jacques Phillipe, Walter Brueggemann, Paula Gooder; their words popped up on screen.
These young people in the Difference team teach three 'habits' (or what some folk might think of as spiritual practices). These 'habits' can be used across our relationship with God, Self, Others and Creation. They can help us be reconcilers in our daily lives and live with difference, giving depth to our discipleship.
Be Curious – not judgemental. Listen to others' stories to see how the world looks through their eyes; seeking to understand. We shouldn't be intrusive, just interested; remembering the other will have a story worth listening to.
Be Present – encounter others with authenticity and confidence. Show up, stick around and bring your whole self to any encounter with others who are different. By giving your full attention to someone you are affirming them.
Reimagine – find hope in the places where we long to see change. The 're' is important – it must be reality, and achievable. One or two people may have started to work alone, or it could be up and running elsewhere. Locally, to get it on the road, it takes collaboration, even with people who may be different from us in age or culture, but like-minded.
Once up and running it attracts more people, like the story of Reconcilers Together!
As reconcilers using these three 'habits' we need to draw on instances of how Jesus dealt with difference and division. Probably one incident that immediately springs to mind is Jesus' encounter with the Samaritan woman (John 4: 4-12). Then the walk to Emmaus,(Luke24: 13-35) and Philip who meets the Ethiopian Eunuch (Acts 8: 26-39).
The second part of each webinar was given over to a Guest Interview.
Be Curious Rev'd Canon Stephanie Spellers, a Canon to the Presiding Bishop for Evangelism in America
Be Present Mariam Tadros from Tearfund
Reimagine René August who, with others, set up The Warehouse in Cape Town.
Reconciliation is the Gospel! This is only a taster! If you want to catch up on all this yourself, you can go to: www.difference.rln.global/webinars to access all webinar recordings. You can also join the Reconciliation Leaders Network if you want. Why not go for it?
ENCOUNTER PRAYER

Loving God, fill us with Your Spirit now,
Help us to be CURIOUS about others' stories -
listening as often as we speak.

Give us the COURAGE to be present –
engaging our whole and unique selves.

Inspire us to REIMAGINE what's possible –
Finding hope by glimpsing You at work.
In Jesus' name, Amen.
St Martin's and the York Group of the Community of the Cross of Nails
You may be wondering what draws me to St Martin's and the York Group of the Community of the Cross of Nails that's based there.
You all know the story of how St Martin's became dedicated to peace and reconciliation. A noble vision!
I'm old enough to just about remember the closing stages of WW2. I was living in St Albans. The beautiful Abbey there was used by the Luftwaffe as a turning point to go back to bomb London. Vivid searchlights flashed across the night skies, tracking German 'planes. Then came the doodlebugs……….
When Coventry Cathedral had been re-built, my mother was keen to visit. She went straight to sit in the nave, gazing up at the tapestry, while I walked around. When I joined her she took my hand and said something like 'I hope and pray there will always be peace from now on in your lifetime." She had lived through two world wars.
Well, fast forward to about 2002. Where do I find myself? Chatting to Rev'd Tony Hodge. He asks me if I would think about helping out at St Martin's.
Those busy years teaching, between going to Coventry and coming to live in York, had seen me visit my much older sister in South Africa during the apartheid era. I was only an onlooker, but knew there would be little peace there until there was some sort of reconciliation. People like Desmond Tutu, Nelson Mandela and FW de Klerk, (who all took massive risks), have turned it into 'a rainbow nation', although there's still some way to go 'to heal those wounds of history.'
Fast forward again to 2012. St Martin's becomes a partner in the Community of the Cross of Nails!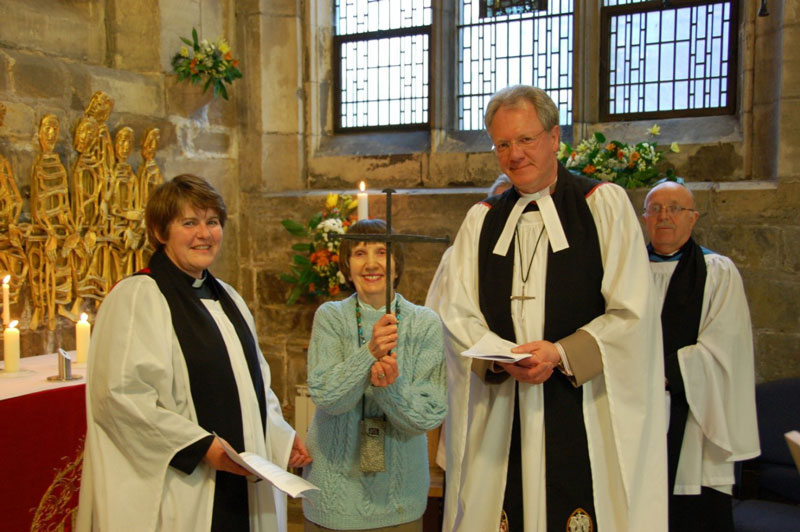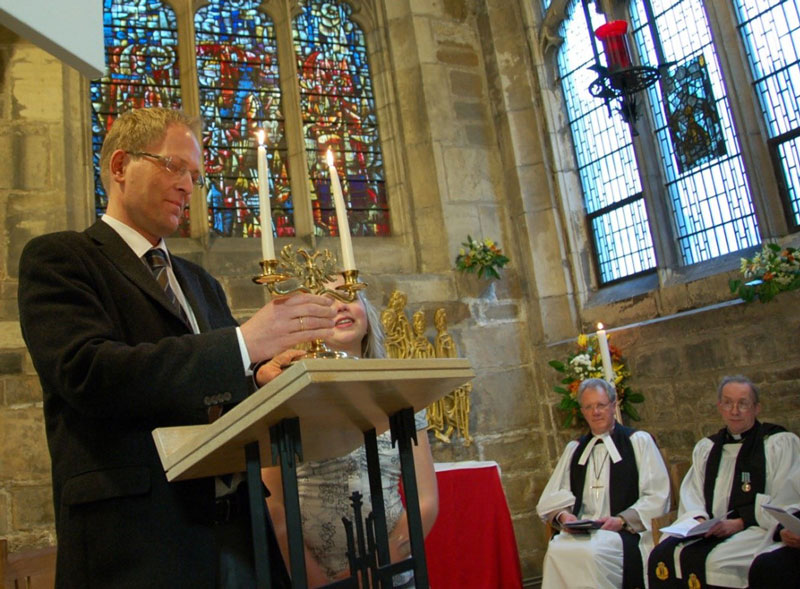 Some of us went to Lübeck in 2013. I think it's now true to say we are on very friendly terms with St Mary's, Lübeck, bombed by the Allies in 1942, and a CCN partner. Chatting to Pastor Annegret there she told me we can't change the past with 'if only' but we can do something about the future………….
Where do we go and what do we do I wonder in future here in York, (where there's a lot of new stuff going on); and, at the same time, keep in track with St Mary's Lübeck?
Can we still live up to that noble vision of 1968 and move on with the next generation of young people, to embrace difference and build peace?
Can we reimagine?
Monica
---
RECONCILIATION: SOME REFLECTIONS by Revd Kingsley Boulton, Deacon
The last seven months have been very challenging, particularly for those of us who have had to shield or isolate. However, on the positive side this has allowed more time, I have found, for reflection and reading, amongst other things.
If you had to choose one word to sum up the Christian faith I wonder what you would go for. I imagine love would probably come at the top of the list. St Paul would certainly support that: "faith, hope, and love abide, these three; and the greatest of these is love" (1 Corinthians 13.13). "For God is love" (1 John 4.8). However, in these present times you might prefer faith or hope. Then there might be salvation or peace. I would like to make a case for reconciliation. Following St Paul again: "All this is from God, who reconciled us to himself through Christ, and has given us the ministry of reconciliation; that is, in Christ God was reconciling the world to himself, not counting their trespasses against them, and entrusting the message of reconciliation to us. So we are ambassadors for Christ, since God is making his appeal through us; we entreat you on behalf of Christ, be reconciled to God" (2 Corinthians 5.18-20).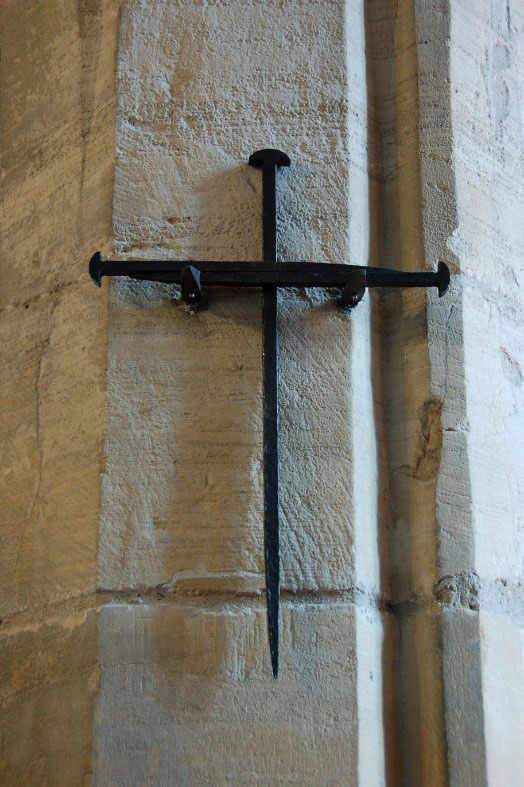 St Martin's has been dedicated since its partial restoration and re-hallowing in 1968 after wartime destruction to peace and reconciliation, and has been a partner in the Community of the Cross of Nails since April 2012. There is a danger in considering the focus on peace and reconciliation as a specialist interest. I would suggest instead that it is central to the Christian Gospel and a concern for us all. However, the threefold aims of the Community of Cross of Nails are, I believe, a helpful aid to understanding reconciliation in its broadest sense: healing the wounds of history, learning to live with difference and celebrate diversity, and building a culture of peace.
The Community of the Cross of Nails grew out of the wounds of history, symbolized by the destruction of Coventry Cathedral to which the ruins of the old cathedral bear testimony – a fate shared by St Martin's and by St Mary's Church (Marienkirche) in Lübeck in northern Germany with which we have links of friendship. (On 14th November Coventry Cathedral will be commemorating the 80th anniversary of the destruction of the old cathedral and much of the city). Many conflicts have their origin in some historical event, however distant and apparently no longer relevant now. Yet its effects linger. People have long memories. This applies not merely to war or conflict between or within nations but also to personal relationships which have become damaged or soured. Such wounds need to be healed in order for people to be able to move on. This requires repentance and forgiveness – as the Coventry Litany of reconciliation reminds us: "Father forgive".
As human beings we will perhaps never agree on everything, and perhaps we never should. For none of us can rightly claim to have the definitive answer. Conflicts arise when one or both sides are adamant in their views and understanding and will not give way. For there to be reconciliation there has to be real dialogue and openness. There needs to be a willingness to listen and understand. That can make one feel vulnerable and out of one's comfort zone. Full agreement may not be possible but respect for the other is at least an important goal. Difference and diversity are to be celebrated and valued, not feared or suppressed.
Reconciliation can, and should, lead to peace. The two are linked. But what do we mean by peace? Here Jesus challenges his disciples, and us, when he states: "Peace I leave with you; my peace I give to you. I do not give to you as the world gives" (John 14.27). Our Lord's understanding of peace is not necessarily what we understand peace to be. Peace is not simply the absence of conflict, in the same way that reconciliation is not simply compromise. For Jesus peace and reconciliation are far deeper. They are nothing less than characteristics and gifts of God. As St Paul declares: "the peace of God, which surpasses all understanding" (Philippians 4.7). Building a culture of peace from a Christian perspective is thus something particularly challenging yet essential, and part of our calling as followers of Jesus Christ, the Prince of Peace.
So let us "seek peace and pursue it" (Psalm 34.14; 1 Peter 3.11)
The Revd Kingsley Boulton, Deacon
---
THE COMMUNITY OF THE CROSS OF NAILS by Revd Derek Earis
Community of the Cross of Nails (CCN) arose from the experience of the bombing of Coventry Cathedral on the evening of 14th November 1940 and continued into the morning of 15th November. The Community was a Christian response seeking reconciliation and is now a worldwide network of over 235 churches, charities, peace-building centres and education and training organisations inspired by the Coventry story of destruction, rebuilding and renewal and active in reconciliation in our own ways. There are three guiding principles of the CCN:-
Healing the wounds of history
Learning to live with difference and celebrate diversity, and
Building a culture of peace.
The CCN is guided by the words "Father forgive" and prays the Litany of Reconciliation on a regular basis. Our own Church of St Martin, Coney Street is an active member and each service begins with the Litany of Reconciliation. In addition it joins in Friday midday prayers for the work of the Community with a short service and meditation. This is held on line at present – details from Revd Kingsley Boulton (email kingsley@yorkcitycentrechurches.co.uk )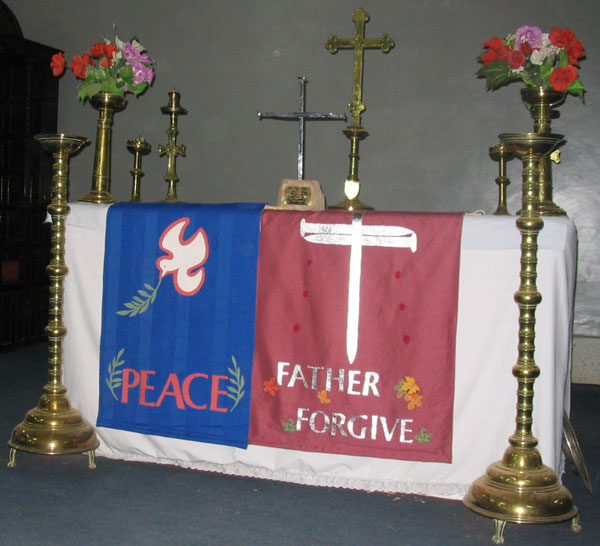 The Coventry Litany of Reconciliation
All have sinned and fallen short of the glory of God.
The hatred which divides nation from nation, race from race, class from class,
FATHER FORGIVE
The covetous desires of people and nations to possess what is not their own,
FATHER FORGIVE
The greed which exploits the work of human hands and lays waste the earth,
FATHER FORGIVE
Our envy of the welfare and happiness of others,
FATHER FORGIVE
Our indifference to the plight of the imprisoned, the homeless, the refugee,
FATHER FORGIVE
The lust which dishonours the bodies of men, women and children,
FATHER FORGIVE
The pride which leads us to trust in ourselves and not in God,
FATHER FORGIVE
Be kind to one another, tender hearted, forgiving one another, as God in Christ forgave you.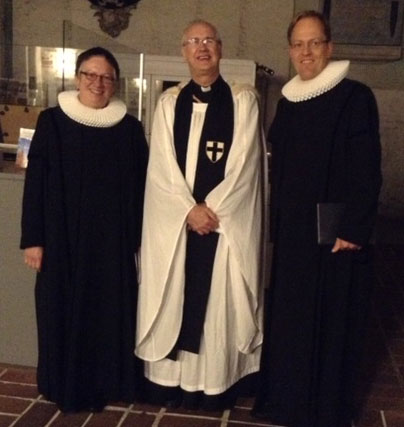 A leading figure in CCN is Oliver Schuegraf, Chair of the German Community of the Cross of Nails board. Below is an article he wrote some years ago in preparation for the 75th anniversary of the bombing of Coventry Cathedral. In it he reflects on what it was like to work at Coventry Cathedral and, in particular, when he met Stuart Hooke from New York – in the years following 9/11.
A story of peace and reconciliation by Oliver Schuegraf, Chair of the German Community of the Cross of Nails
From 2002 to 2006 I worked at Coventry Cathedral as Co-ordinator of the Community of the Cross of Nails. At the beginning I quite often asked myself: What do I have to offer in regard to reconciliation? I am a well-off German, born in 1969 into a time of peace and prosperity. I gratefully look back to a sheltered childhood and a university full of opportunities. No real harm was ever done to me. I've never had to struggle for justice or peace. How can I dare to talk to others about reconciliation?
On Friday mid-day I regularly led the Litany of Reconciliation in the ruins of Coventry Cathedral and presided over the following Eucharist. One Friday in 2005, we were visited by Stuart Hooke, an Anglican priest from St. Paul's Chapel in New York City. St. Paul's is the little church in Manhattan surrounded by skyscrapers directly opposite Ground Zero, where until 11th September 2001, the towers of the World Trade Centre soared up. It is also the only building in the area surviving the attack without any harm. A bit after the service in the ruins of Coventry Cathedral, Stuart Hooke recorded his impressions in an internet video to his church community. I was quite amazed by the powerful emotions that were evoked in him by my own rather modest utterances which I had made on so many similar Fridays. My original words must have gained much more pathos in his memory than they had actually possessed in reality:
"There he was, standing in the ruins of Coventry Cathedral, celebrating the Eucharist. It was a Eucharist of Reconciliation, and there was a large group of people there – pilgrims, tourists, curiosity seekers. And he said to them after the service: 'Look at me! I am a young German Lutheran minister. I am offering the sacrament of unity in this place. Unity and reconciliation and forgiveness'. And he said: 'Do you understand the symbolism of this?' And they all said: 'Oh yes'.
Well, I was standing in the back, and I just … ah … teared up immediately, because it was just immediately for me resonant of what we are about at St. Paul's."
During my time in Coventry, I was constantly amazed how Coventry Cathedral and its story have the power to move people and to bring alive the message of reconciliation. More than once I was able to experience that, for people from the most varied crisis-torn regions of the world, the encounter with this place became an incentive and a motivation to fight unceasingly for justice and reconciliation. The link back to Coventry's ruined cathedral and its history of reconciliation is more than a mere nostalgic reminiscence of times gone by.
And I also had to find out that apparently the story can move especially when it is told by a German serving at Coventry Cathedral and giving living witness to the fact that things can change: Coventry Cathedral has stretched out the hands for peace, British and Germans have been reconciled by God's grace and it is by now almost the most normal thing in the world when a German is presiding over this Friday noontime service in the ruins. It has been a privilege of telling and symbolizing this reconciliation story.
Oliver Schuegraf
Chair of the German Community of the Cross of Nails
#CCN #Fatherforgive
Oliver has written a book entitled "The Cross of Nails – joining in God's mission of reconciliation" (ISBN: 9781848252394). This illustrated book, written in 2012 originally in German but translated into English tells its remarkable story from the beginning. It is also a work of contextual theology, offering reflection on the meaning of reconciliation in the contemporary world and relating experiences of imaginative forgiveness from Cape Town to Ground Zero. Published as part of Coventry Cathedral's golden jubilee celebrations, this celebrates its continuing ministry of reconciliation. Some years ago now Oliver visited York and spoke at the University of York St John.
More details about Coventry and the Cathedral's ministry of reconciliation can be found on the Coventry City Council web site https://www.coventry.gov.uk/peaceandreconciliationstories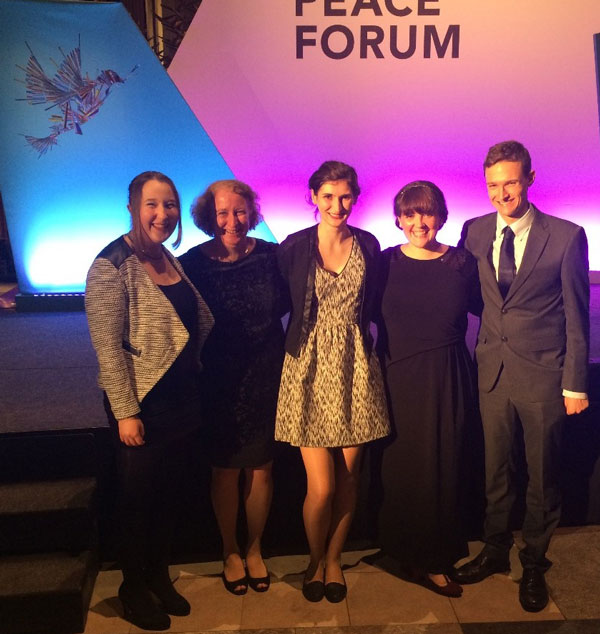 The Archbishop of Catherbury, Justin Welby, has taken a great deal of interest in reconciliation. In 2019 his Lent book was "Reconciliation" by Muthuraj Swamy (SPCK) to which the Archbishop has written the introduction, where he reminds readers that reconciliation is one of his three stated priorities in office. Quite simply, "Reconciliation is the Gospel," Welby writes. He regards it as the restoration of brokenness caused by sin: "There is good news because, from the first stirrings of dissent, God has been working to mend, to heal and to reconcile." Swamy builds on these thoughts of the Archbishop in believing that reconciliation is "one of our greatest needs and toughest challenges as human beings. In a world plagued by conflict, division and indifference, the Church has a crucial role to play as a community of reconcilers."
Revd Derek Earis
---
ST MARTIN'S PEACE CANDLE LANTERN & THE BETHLEHEM PEACE LIGHT – by Monica Lawrence and Revd David Simpson
The Rev'd Jane Nattrass bought St Martin's Peace Candle Lantern. It is used at Prayer Vigils and to mark significant international or national events. On occasion, it is also placed in St Martin's courtyard with appropriate wording, as a sign of peace to passers-by. As part of our remit to Build a Culture of Peace, St Martin's has become an area distribution centre supporting the Scout/Guide Bethlehem Peace Light initiative, and there is an annual service for the receiving and giving of the Bethlehem Peace Light.
---
NOVEMBER: AN INTERESTING MONTH OF ANNUAL PAROCHIAL CHURCH MEETINGS & CHURCH FESTIVALS by Revd Derek Earis
NOVEMBER – AN UNUSUAL MONTH FOR ANNUAL PAROCHIAL CHURCH MEETINGS
The Virus has turned our administrative Church Calendar upside down. The legal requirement is to hold an Annual Parochial Church Meeting by the end of April. Of course the Pandemic changed all of that and with new dispensations the end of November has been specified. There is also flexibility as to the style of the meeting with "Zoom" or streamed meetings possible.
In the City Centre we have opted for live Annual Meetings some of which will have live streaming. Originally there was to be one joint meeting as in recent years but with the changed circumstances and social distancing it has been recognised that individual parish meetings make far more sense. St Helen's were first squeezing their meeting into the last day of October (31st) so that may well have happened by the time you read this. All Saints' Pavement comes next after morning service on the Patronal Festival Sunday November 1st. St Denys follows after the Remembrance Sunday service on November 8th and then St Olave's comes last on Sunday 22nd November in Church at 4pm. This will be live streamed. Do let the Churchwardens know in each case if you wish to attend so that the meeting will be Covid safe.
NOVEMBER – A MONTH FULL OF FESTIVALS
It starts on 1st November with ALL SAINTS. At All Saints Pavement the Patronal Festival is celebrated. That's a really important day for the church because not only is it the Patronal Festival ("All Saints Day") but also there is a Confirmation service for David Norman, a York University student. It is the first Confirmation Service actually held at the Church since 1974 and will be conducted by retired Bishop Rt Revd David Smith, formerly Bishop of Bradford.
This is followed on 2nd November by ALL SOULS DAY. However at both St Olave's and All Saints this is incorporated in the Sunday worship. At St Olave's there will be a brief commemoration of the faithful departed at the start of the Sunday service on 1st November. This will happen both live at 9am and online at 10.30am. At All Saints the Commemoration will take place during the evening service and the names of loved ones are invited beforehand. These can be sent to the Churchwardens if not written in Church.
On 8th November we have the FESTIVAL OF REMEMBRANCE. There will be the usual service of Remembrance at both All Saints Pavement and St Denys. At St Olave's the 10.30am recorded service will be one of Remembrance with a silence at 11am. At the 9am there will be an element of Remembrance before the Peace.
On Wednesday November 11 the 2 minute silence at St Helen will be marked at 11 o'clock as usual. Again as usual Margaret will mark the 2 minutes at St Martin and lead the placing of new wreaths. The current layout and Covid-19 safety rules mean that at best 6 people could be accommodated. If you intend to be there would you please let Margaret know so we can plan and you will avoid the risk of disappointment. Also the service at St Helen on 11th November at 12.15 which would normally have taken place at St Martin ( the cards are there this year) will mark the PATRONAL FESTIVAL OF ST MARTIN.
On 22nd November our churches will celebrate the FESTIVAL OF CHRIST THE KING where both the suffering and the exaltation of Christ are highlighted.
On 29th November we all celebrate ADVENT during the various Eucharists at all our churches with Sunday worship. We start to wait expectantly for the coming of Christ. At All Saints Pavement there will be a special Advent Service at 3pm with readings and musical items on Advent themes.
FOR YOUR DIARY
The Archbishop of York, The Most Reverend Stephen Cottrell, Lord Archbishop of York, has kindly agreed to provide the sermon for the 10.30 online service from St Olave's on Sunday December 6th. Don't miss it!
Our new Priest in charge The Revd Liz Hassall will be licensed in St Olave's on December 16th. More details later but, because of Covid restrictions, it is likely that most people will need to watch this exciting event online.
Revd Derek Earis
---
BOOK REVIEW: "LIVING RECONCILIATION TRANSFORMING CONFLICTS"
This book was used as our Lent book in 2016 for the York CCN based at St Martin's. "A lively, engaging book that challenges the reader to think about how to actively live a life of reconciliation. The Foreword is by the Archbishop of Canterbury and in it he describes reconciliation as a hallmark of Anglicanism. He believes that ordinary Anglicans Living Reconciliation can transform our world. This is the book to inspire and inform all those who are ready to join this journey." You can read more about the book here.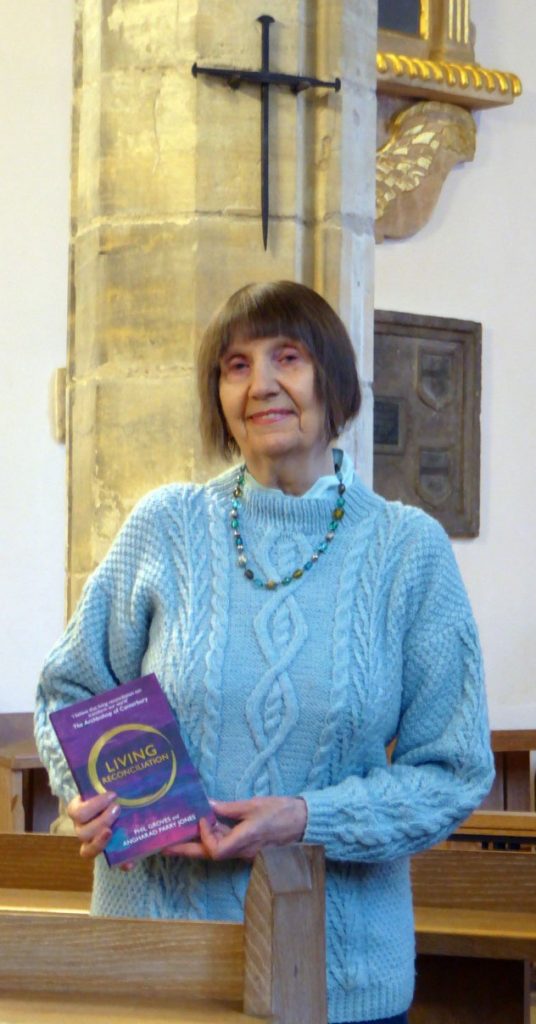 ---