Editor: The Revd Canon Derek Earis
Contents
---
LETTER FROM AN (UNOCCUPIED) VICARAGE by Revd Derek Earis
Dear Friends,
I write this as the last of the summer sunshine cheers up our view of the Minster from the street. We are having a final burst of summer in late September though the autumn is clearly coming and, of course, there is great anxiety again about the virus with people bracing themselves for more restrictions.
Despite the pandemic some of us did get away abroad this summer. I thought it would be interesting to ask them for some reflections – or "thoughts from abroad" as we have called it. I hope you enjoy reading them. Perhaps together they will remind us not only that we are indeed " all in this together" but also that the Christian church in different countries continues to proclaim the Gospel even in these challenging circumstances.
Travel is, of course, increasingly problematic. If you go abroad there is no certainty that you will get back without quarantining somewhere along the line. Our contributors have been fortunate on the whole – although at least one did have to quarantine on return. If your travel has been cancelled or you decided it was not for you this year I hope that you can get a bit of a foreign flavour from these articles. They also reveal some heartening encounters with those who are strangers yet show kindness.
Keeping the faith. Showing kindness to others. Appreciating difference yet rejoicing in the same God. These are some of the themes from this issue's "Thoughts from abroad".
With every good wish,
Derek.
---
THOUGHTS FROM ABROAD – KALAMATA, PELOPONNESE, GREECE by Revd Derek Earis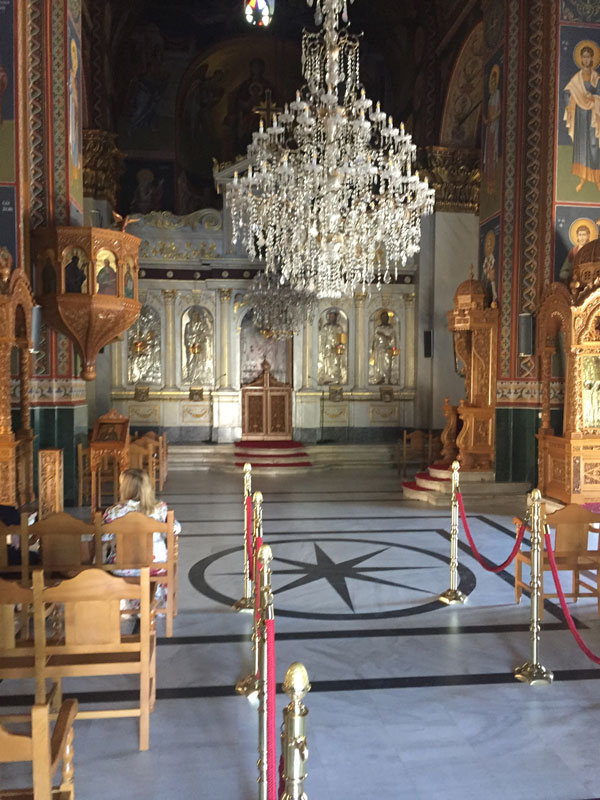 If you have heard of Kalamata at all it will probably be because of its olives. But it is a long way from a tourist hot spot. The second largest town in the Peloponnese it is very much a working town –and a busy one at that. It had its ancient quarter of narrow streets but the earthquake in 1986 destroyed much of the historic centre. But we had a great week there at the end of July with our younger daughter and husband and their new baby Elizabeth. We heard hardly any English and were welcomed with kindness. That kindness to strangers happened from the very start when we got hopelessly lost trying to find our accommodation and ended up with the car stuck up a steep narrow road hemmed in and with nowhere to turn. It took a kind young Greek man to get us out of that and, going the second mile, came with us to where we needed to be. We did our best to reawaken the Greek economy eating out frequently and were amazed at the wonderful food and the cheapness of it and the cheerful hospitality. We even had an unadvertised live performance of traditional Greek songs at one of them accompanied by the bouzouki. We four adults ate like kings and drank , and the total bill came to around 35 euros per meal. Total, not each. The prices were clearly local and not tourist.
One of the most characteristic days was courtesy of inaccurate Google maps. The walking directions to the ruined castle brought us not there but rather to a huge market on market day. It all felt refreshingly normal. Not a lot of social distancing but much activity in the blazing heat (around 38 degrees which even the Greeks found hot). Apart from the amazing variety of fruit and vegetables and the market hustle and bustle I was fascinated by the number of Papas – Greek clergymen with their distinctive tall stove pipe hats and black robes. I counted at least half a dozen in different parts of the market. Some were ancient and venerable looking with long beards, and at least one was a handsome young man. It seems that their method of mission is to mingle with the people where they are in the open and what better place for this than a market? One was in the café and others talking to the stallholders or the customers. Impressive. Perhaps we have something to learn here and should have more of a presence in York market although now this is but a shadow of its former self. We staggered back with a water melon which felt like a large cannon ball. It was delicious.
Another evidence of how integrated the church life is came each morning when the local church rang its bell. It was not always welcome at 7am but it did show an active and worshipping church and that the priest was about his business. Worshippers come and go to Greek worship which is long and elaborate. Our local church sat proudly in its square and can be seen as the entry to this section. The lamps were lit. The icons displayed. Everything was clean and sparkled and it was clearly much loved.
Of course there were beach days and walks in the mountains and spectacular views but what really came across was a feeling that for a few days we were part of a genuine community. Church bells and priests and ornate churches were part of this and though the worship is very different from ours the proclamation of the faith and the pastoral care were evident, and we felt better for it.
---
NOTES FROM ST HELEN WITH ST MARTIN by Anthony & Margaret Hammersley
Cards for Good Causes (CfGC) return to York in October. The Covid-19 pandemic has caused the income of so many charities (and our churches!) to collapse so CfGC is very anxious to have a good season despite all the constraints that are in force. The workforce is nearly all volunteers who give their time to support the many charities which benefit from these Christmas sales. In consultation with CfCG professionals the PCC has agreed that they will operate out of St Martin only as there we can ensure a Covid-19 safe environment for their staff and customers. Please visit them to make your Christmas purchases and support many national and local charities. Trading starts on Wednesday 21 October and lasts until Monday 21 December.
The Wednesday 1215 Eucharist at St Martin will be celebrated at St Helen (in exactly the same format) whilst CfGC are operating at St Martin.
Other news from the parish includes the completion of a lengthy saga concerning the state of the main doors at both churches. They have been in need of repair and conservation but it has taken some considerable time (years) to get agreement as to the treatment. The damage from years of neglect and the impact of the products of antisocial behaviour was considerable. Do take a look when you next pass by as they have been transformed by skilled specialist joiners with near invisible repairs. The conservation grade preservative is a new product which allows the wood to breathe whilst repelling liquid and resisting the bacteria which are contained in some of the products applied by the socially challenged.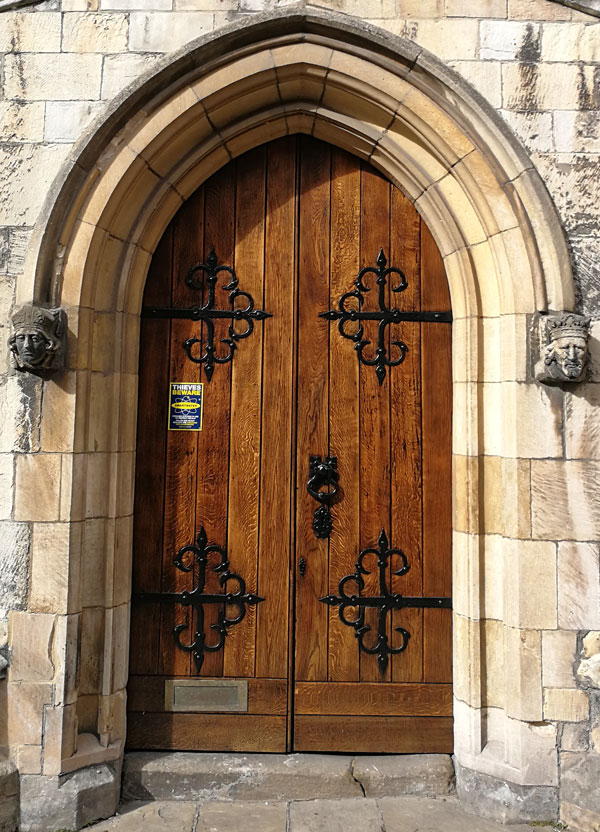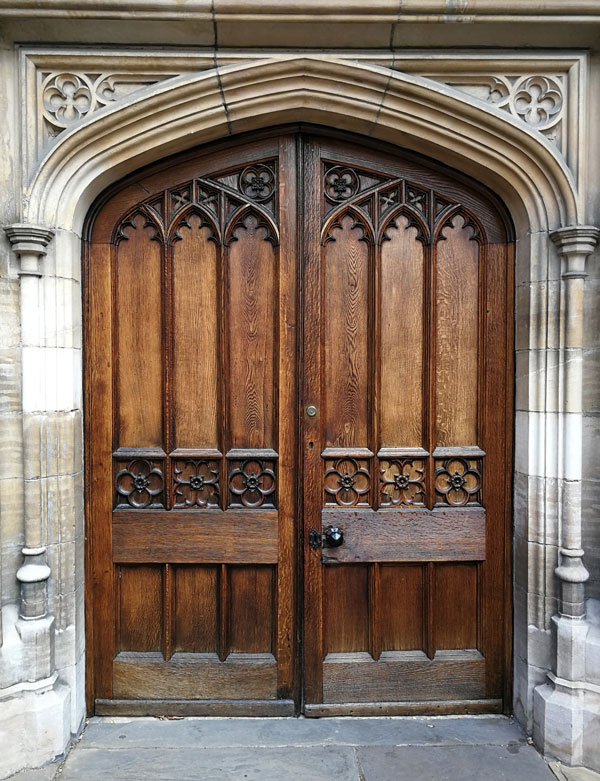 The parish now has its website fully functioning to identify its many activities. We are providing the customary three services on Wednesdays and Saturdays and are very grateful to the clergy colleagues who are making it possible. It is good to see our friends returning to the live services. Worship will be further enhanced from the beginning of October when our scholars return. We just regret we (the congregation) cannot sing the wonderful hymns chosen by Phillip.
CARDS FOR GOOD CAUSES IN YORK ST MARTIN CONEY STREET
21st October to 21st December 2020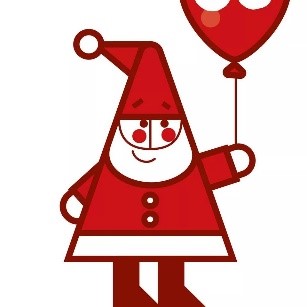 We have had two venues in York at St Helen's Church and St Martin Coney Street for a number of years, selling our packs of charity Christmas cards, Advent calendars, stationery including diaries, Christmas wrap, bags & bows, gifts, kitchenalia, tea towels, napkins, toys etc.
This year we are consolidating the offer in one venue at St Martin as it is easier to socially distance in its larger space and the protection of our customers, volunteers and other church users is paramount to us. We appreciate the support of the PCC in making this decision.
100% of the profit goes directly to our 25 member charities and the local guest charities which, for 2020, should include Jessie's Fund, Yorkshire Wildlife Trust, Brunswick Nursery, Epilepsy Research, Admiral Powel, British Thyroid Foundation, Royal British Legion, British Red Cross and Hearing Dogs for Deaf People (York) and others to be confirmed.
Our member charities that we will be selling in York are:
Alzheimer's Society, Barnado's, British Heart Foundation, Cancer Research, Cystic Fibrosis Trust, Diabetes UK, Epilepsy Action, Macmillan Cancer Support, Marie Curie, Mind, Motor Neurone Disease Association, MS Society, MS Trust, National Autistic Society, Parkinson's UK, Queen Elizabeth Foundation, RNLI, Save the Children, Shelter, SSAFA, The Stroke Association, Versus Arthritis, British Red Cross, PDSA and World Wildlife Fund.
We look forward to welcoming you into St Martin's church and sincerely thank the church community for hosting us again.
---
THOUGHTS FROM ABROAD – SPAIN & ITALY by Revd Stephen Griffith MBE
50 years ago a usually drunk music student came into my room in university and said in his heavy Aberdare accent, 'Stephen, you must listen to this.' I did. I was bowled over by it. It was a movement from Brahms' German Requiem. 'For here we have no abiding city, but we seek one which is to come.' In a way it became my motto, and I have been wandering the earth ever since. Until Lockdown.
SPAIN
My brother has lived in Spain for nearly 20 years, and has been ill, so I needed to go there, and as soon as I could shot off to Andalucia. Flying was fine – a couple of my old pupils are airline pilots and tell me that the air filtration system in modern planes makes them very safe. And renting a car in Jerez was easy.
I had difficulty finding the nursing home where my brother was living, partly because its name was different on the gates. In the end I managed my 'dónde está?' (where is) to a man mending the road 10 metres from the gate. I tried to drive in but a burly guard stood at the locked gates and pointed somewhere, and I found space to park. I returned to the wrought iron gates to face this terrifying Cerberus. I managed my third Spanish phrase 'Marteen' (for such is my brother's name, Martin, in Andalucia) and who did I see strolling like an old man (as he is) under the pine trees but Martin. My shoes were sanitised, my hands were sanitised, and as we got closer Cerberus barked 'Keep a distance' as we managed to sit well apart. Unlike me, my brother is a rebel and they were watching him like a hawk, as he kept moving his mask.
After a couple of visits to the nursing home which took lockdown absolutely, I moved base to Cadiz.
'The greatest port, port of Columbus, of billions of bullion, and cargoes of diamonds, Emeralds, amythysts, Topazes, and cinnamon, and gold moidores.' It had wonderful food and my hotel was blessed with a lovely rooftop swimming pool. A historic city perfect for cycling and relaxing after the traumas of sorting out my brother, and watching the sun set beautifully over the Atlantic.
I needed to fly back from Madrid and decided on a hotel which was near the Museums and had a pool. It turned out to be a gay hotel (I really didn't know!). The walls were black and purple, and the rooms draped with black lace. The rooftop pool was 4 foot wide and ten yards long, a place for loitering with a glass. But it was close to the wonderful, air-conditioned art galleries and museums, as well as a square with so many wonderful restaurants. The art on display was a delight, and as it was 36⁰ outside there was every reason to linger.
I do love Spain.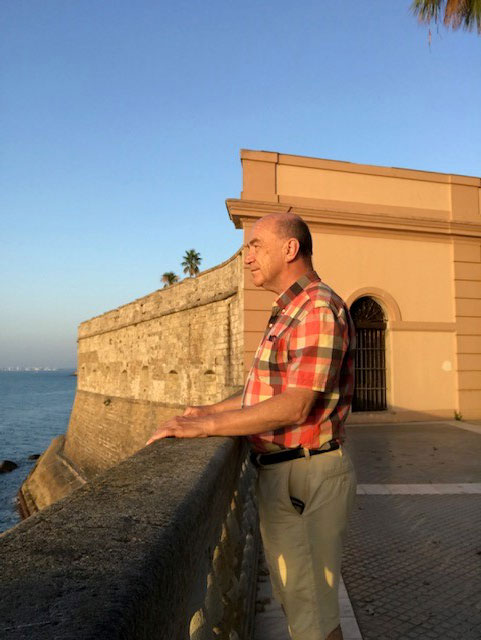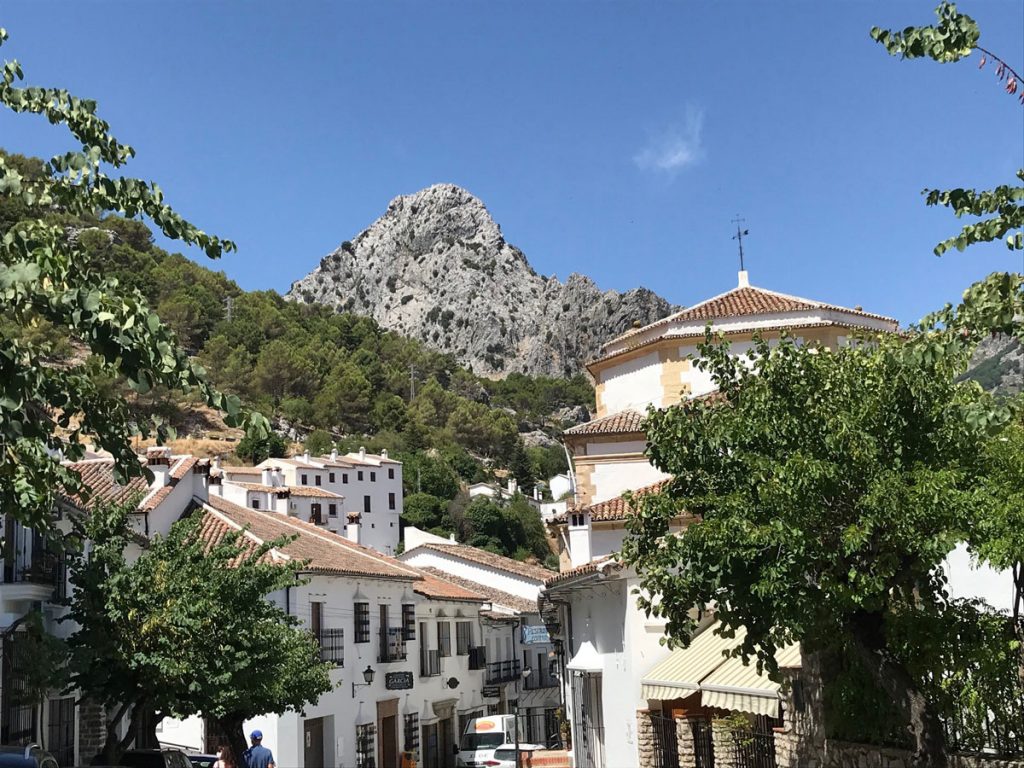 ITALY
We decided to escape to Venice at the end of August. My first visit there had been on a school football trip, and we had been a few years ago. Like York it had plenty visitors, in Venice's case mainly Italians or from nearby countries, so it was not overwhelmed.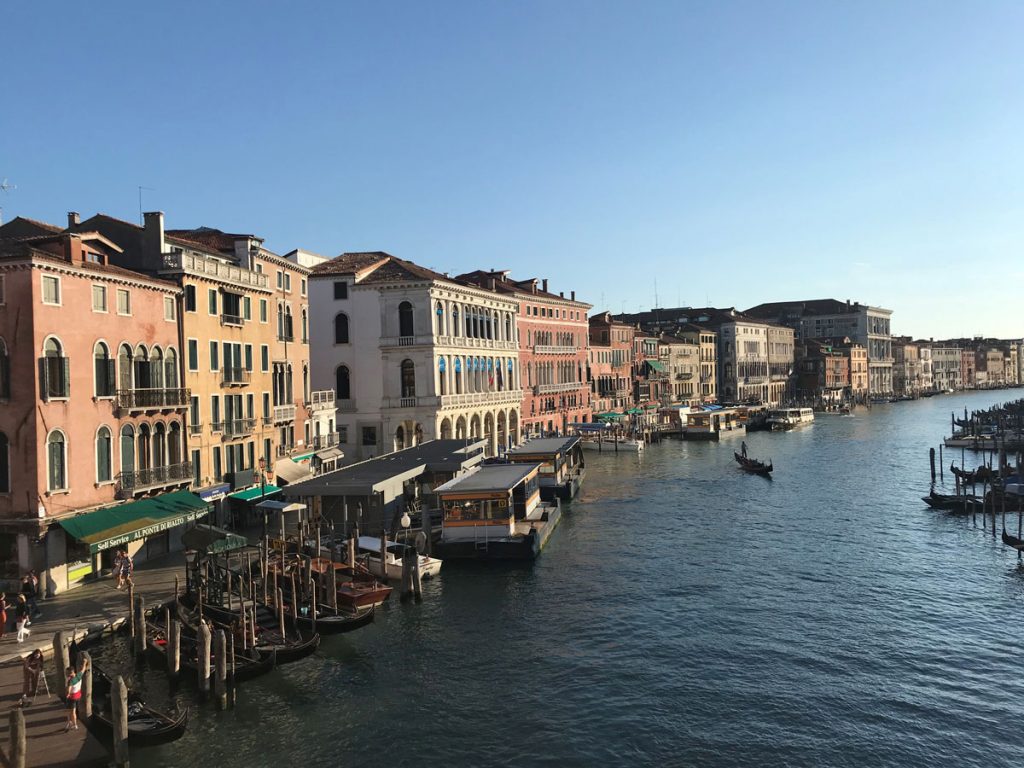 We arrived late on Saturday, so the next morning I got the vaporetto to St Mark's for the eucharist. Hidden away was a choir and organ, up in the golden galleries, and the music sounded like the sort of music you should hear there: Gabrielli or something. As the only Italian I know is 'Your tiny hand is frozen' or 'Tonight let no one sleep in Peking' I didn't quite catch the sermon. Eight minutes for those of you who judge sermons by length. I have a strong belief that to see any great church you must attend worship. It gives you time and space to look at the astonishing mosaics, in St Mark's case.
We managed to get to the theatre to see Stravinsky's The Soldier's Tale: I had missed live performance and it was refreshing to be well-spaced for this admittedly odd work. Like church, a well-run theatre must be a very safe place to be in these days. People spaced, still and masked, absorbing the performance, lifted out of the difficulties of the time.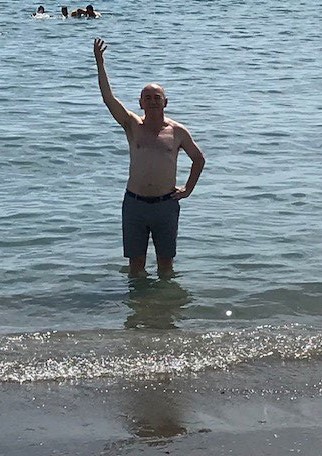 Having spent a few days wandering round, revisiting old friends, or standing on the beach of the Lido acting out the final scene of 'Death in Venice' (as Tadzio standing in the calm water rather than Dirk Bogarde dying of the plague – see picture!), we decided to visit Padua. Not to act out the Taming of the Shrew but to see some astonishing frescoes by Giotto in the Scrovegni Chapel, about which I could ramble on but will encourage you to look up.
DESIRE TO TRAVEL
Here we seek a city which is to come. What is it that I love about travel, whether it is discovering the new, like Madrid's Galleries or the Scrovegni Chapel, or going back to old friends like the wonderful wines of Jerez? As Whitman wrote in more confident times, humans are
Wandering, yearning, curious, with restless explorations,
With questionings, baffled, formless, feverish, with never-happy hearts,
With that sad incessant refrain, Wherefore unsatisfied soul? and Whither O mocking life?
I am sure that my desire to travel, to discover or rediscover is ultimately about the search for oneness with God, in whom things all things find themselves. COVID won't stop me.
---
WAS SHAKESPEARE A CHRISTIAN? by Peter Wells
It's been said that all the best movies are about Jesus; so, were Shakespeare's plays and poems about Jesus, too? Was Shakespeare a Christian?
If being baptised, married and buried in Church makes you a Christian, then, end of discussion, Shakespeare was a Christian. If, on the other hand, having sex with the wrong person disqualifies you, then he wasn't. But you wouldn't expect the discussion to end that quickly, would you? What I'm going to propose in my three talks at All Saints Pavement during the first three Evensongs in October, is that Shakespeare was a Christian on my definition of a Christian, one that I hope and suspect will not be too far away from the views of some of my audience.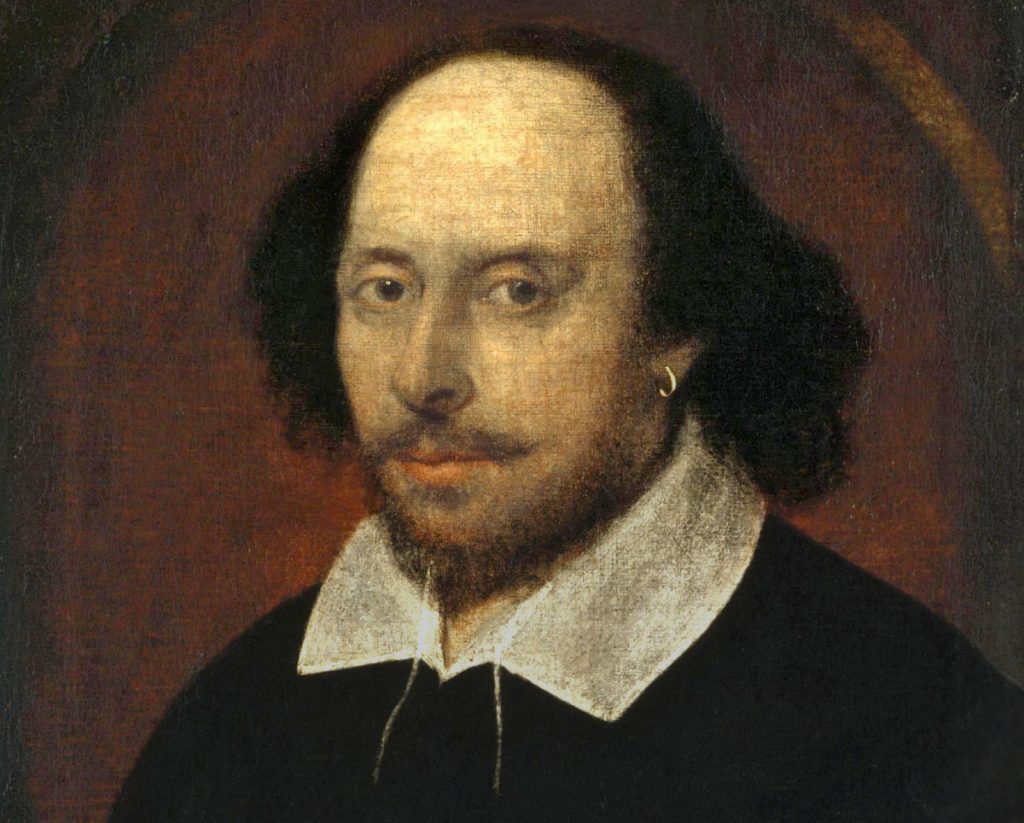 God is: and Jesus is the window through which I see God.
This is a formulation of faith that helps me to make sense of life. The life and teachings of Jesus, actualised in his death and resurrection, provide me, brought up like Shakespeare in the Church of England, with a framework, a touchstone, and a reference point.
Love is not love,
Which alters when it alteration finds.
In these lines, from Sonnet 116 (which refers in its opening line to the Prayer Book Marriage Service), I don't see just an avowal of intense physical love between two passionate young people (though it is undoubtedly that). I'm immediately reminded of St Paul's words in 1 Corinthians 13:
Love suffreth long … 
It suffreth all things … it endureth all things. 
Love doeth never fall away
Shakespeare's imagination, while rooted in earthly reality, simultaneously generalises to the highest level of spirituality.
There is nothing we can do that will make God love us more than he already does, 
and nothing we can do that will make him love us any less.
Thirty wise and wonderful words that I once heard in a sermon – but Shakespeare got there, 400 years earlier, in ten.
The Duke of Gloucester (in King Lear) does not see until he is blind. After Edmund puts out his eyes, he comes up with this observation, in language again so compressed you can hear the rivets straining in the syntax:
Full oft 'tis seen
Our means secure us, and our mere defects
Prove our commodities.
("Having possessions makes us complacent, whereas having absolutely nothing turns out to be to our advantage.") You probably got there before me – did you think of Matthew 6:
No man can serve two masters:  
for eyther he shall hate the one, and love the other,  
or els he shall leane to the one, and despise the other.  
Ye cannot serve God and riches. 
Or Mark 10:
Go and sell all that thou hast, and give to the poore,  
and thou shalt have treasure in heaven. 
Or Luke 12:
And I wil say to my soule,  
Soule, thou hast much goods laide vp for many yeeres:  
live at ease, eate, drinke and take thy pastime.  
But God said vnto him,  
O foole, this night wil they fetch away thy soule from thee:  
then whose shall those things be which thou hast provided?
Let's reverse the procedure. In the Geneva Bible, the version most familiar to Shakespeare, we read that before his death, Jesus said,
My soule is very heavie, even vnto the death. 
He then left his disciples and prayed, saying,
O my Father, if it be possible, let this cup passe from me: 
neverthelesse, not as I will, but as thou wilt. (Matthew, 26) 
Did you think of Hamlet? His soul is heavy:
How weary, stale, flat and unprofitable  
Seem to me all the uses of this world.
He knows that something is rotten in the state of Denmark, where
rank corruption, mining all within, infects unseen.
and realises that there is only one person who can heal it – himself, at the cost of his own life. In his Gethsemane moment he says,
But thou wouldst not think how ill all's here about my heart.
Only Shakespeare would have the nerve to make a depressed teenager a Christ-figure, but he does:
The time is out of joint. O cursed spite
That ever I was born to set it right
At Hamlet's death Horatio says,
Good-night, sweet prince;
And flights of angels sing thee to thy rest.
Am I the only person thinking of the end of Bach's St Matthew Passion:
Nun ist der Herr zur Ruh gebracht. Mein Jesu, gute Nacht!
('Now is the Lord brought to peace. My Jesus, goodnight.')
WAS SHAKESPEARE A CHRISTIAN?
The question 'Was Shakespeare a Christian?' could be described as rhetorical. A simple Yes or No is not possible. Perhaps you won't concur with my definition of 'Christian.' Perhaps you will disapprove of my interpretations. But it does provide a way in to the oeuvre that may enable us all to explore both Shakespeare and our faith.
THREE TALKS
The first talk will look at the Sonnets, seen as a story that in my view is probably historical. The second and third will focus on Hamlet and King Lear respectively. There is ample material for Series Two and even Three, as I'm sure you've already realised: Measure for Measure (justice v. mercy), The Winter's Tale (resurrection and forgiveness), The Merchant of Venice (the hypocrisy of Christians), Henry V (is God an Englishman?), Othello (the nature of jealousy), The Tempest (justice and forgiveness again) … But once you get going, you can deal with these yourselves!
Details:
4th October, 6.30, All Saints Pavement: 'The Expense of Spirit in a Waste of Shame' (The Sonnets)
11th October, 6.30, All Saints Pavement: "I was born to set it right." (Hamlet)
18th October, 6.30, All Saints Pavement: The Prodigal Father (King Lear)
The services are live at All Saints, and will also be streamed to Youtube, All Saints Facebook and the City Centre Facebook Page. The links will be published on the All Saints Facebook Page shortly before each service.
If you miss the talks, or want to refer to them again, the notes will be available on https://sites.google.com/site/u3ayorkexploringthebible/home/was-shakespeare-a-christian. But – absent ye from felicity awhile – they won't be there until after each talk has been delivered!
---
THOUGHTS FROM ABROAD – GERMANY & HOLLAND by Tina Sanderson
SHALL WE GO?
This family phrase was introduced by a very young James Sanderson, eager to get his parents, aunts, uncles and grandparents moving on family walks. However, during the pandemic it seemed appropriate to apply the phrase to our family holidays. Luckily our summer holidays were largely unaffected timing-wise by lock downs and government rulings. Our first "shall we go?" moment involved a week in early July in the Lake District with our family and parents (in their 80s and 90s). We all agreed that we should go – we were the first to stay in the cottage following lockdown and there were enough bathrooms in the house for everyone. We built up confidence using face masks and hand sanitiser in public areas, and by eating outside nearly all the time.
In early August Pete and I had another "shall we go?" break, this time with three octogenarians and a nonagenarian in Aldeburgh. We had booked the hotel when Ruth earned a place in the Britten Pears Orchestra so that we could see the final concert. Unfortunately, the course and concert were cancelled due to COVID-19, but everyone still wanted to go, and we had a lovely break.
Shall we go? is an altogether more complex question when travelling abroad. The very fact that Derek has asked me to write this article shows that international holidays are somewhat unusual this year. The building of confidence through the earlier 'staycations' (what a dreadful word!) helped. The key worry for all of us was the need for extensive public transport to get to Germany – something we had largely avoided in the pandemic so far. We kept a close eye on the UK Government travel corridors, and on the day of departure were good to go – Germany and the Netherlands were approved for travel.
WHERE DID WE GO?
My mother is German and that I try to visit my aunt/Godmother and one of my mother's school-friends each year if possible. We discovered Schliersee in Bavaria last summer and wanted to introduce this gem in the Alps to James and Ruth. Some of you may know that Pete and I are currently cycling along the Rhine (Rhein) Cycle Route from source to sea, doing a new stretch each year. This year, the plan was to cycle over 300 miles from Köln (Cologne) to Hook of Holland. So it became a three-in-one holiday!
Pete and I decided to take our bikes this time – in previous years we have hired touring bikes, but this year we were cycling further and wanted to avoid returning hire bikes to Köln. We chose to take the Hull-Rotterdam ferry, and booked a luxury cabin so that we could enjoy our own space whilst on the boat. We took a train from York to Hull and cycled to the ferry terminal. On arrival in the Netherlands our journey to Germany involved some cycling, a river crossing by ferry from Rozenburg to Maassluis, a metro train from Maassluis to Marconiplein, some more cycling, a train from Rotterdam to Eindhoven and then from Eindhoven to the German boarder at Venlo. In Venlo we had to buy additional tickets to get our bikes to Köln. All in one day. Phew!
DÜSSELDORF AND KÖLN
"Shall we go?" was a particularly important question here, because of the plan to visit elderly friends and relations following a day of extensive use of public transport. We left the decision up to them, and phoned again on the day to see how they felt. We did all we could to "stay safe" and avoid risk, preferring to meet outside rather than in their homes. We started by cycling 43 miles by the Rhein from Köln to Düsseldorf to visit my aunt Hergart and her husband Wolfgang. Hergart has a real fear of Covid-19 and had not left the apartment at all for eight weeks. However, she came down the two flights of stairs to meet us and we went for a local walk – the furthest Hergart had walked for months. We felt privileged.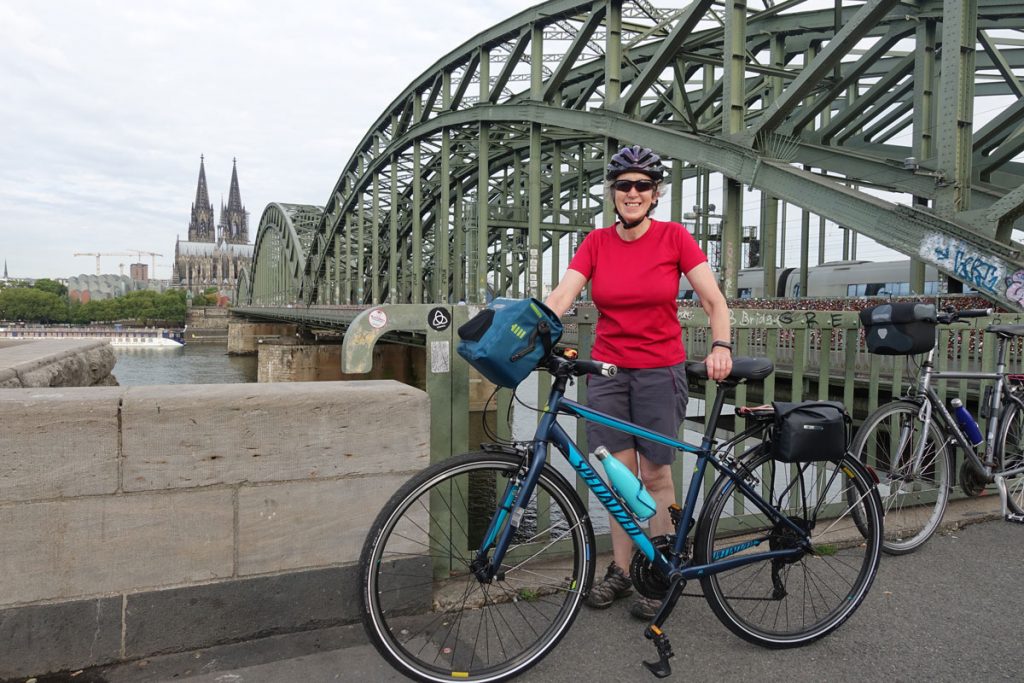 Having left our bikes in Düsseldorf, our next visit was to Jülich to visit Christl and Lothar. Their daughter and granddaughter were also there, and my German was challenged as they talked about anything and everything whilst we sat in the garden drinking tea. From time to time I tried to translate things for Peter, including an explanation that "Igel" (pronounced eagle) was in fact a hedgehog and not a large bird of prey – one had visited the garden not far from where Peter was sitting! Topics of conversation also ranged from kidney dialysis, to learning by Zoom in German schools, to the falsification of diesel car engine emissions, and by the time we left my German 'ear' had improved considerably but I was exhausted!
SCHLIERSEE, BAVARIA
Pete and I travelled by train to Schliersee, where we were joined by Ruth, James and their partners. This part of Bavaria is beautiful and we spent a lovely week doing lots of outdoor activities: hiking, driving mountain carts 3km from the chair lift down to the valley floor, Rodelbahn (like the mountain carts but in a semi-tube), swimming in the lake and paddle-boarding. It was the first time Ruth, James and I had been on paddle-boards, and I found myself at the receiving end of the usual visual assessment "will she manage at her age?". We were asked what fitness activities we took part in, and a casual mention of my cross-country skiing earnt a high 5 and permission to hire the paddle-board!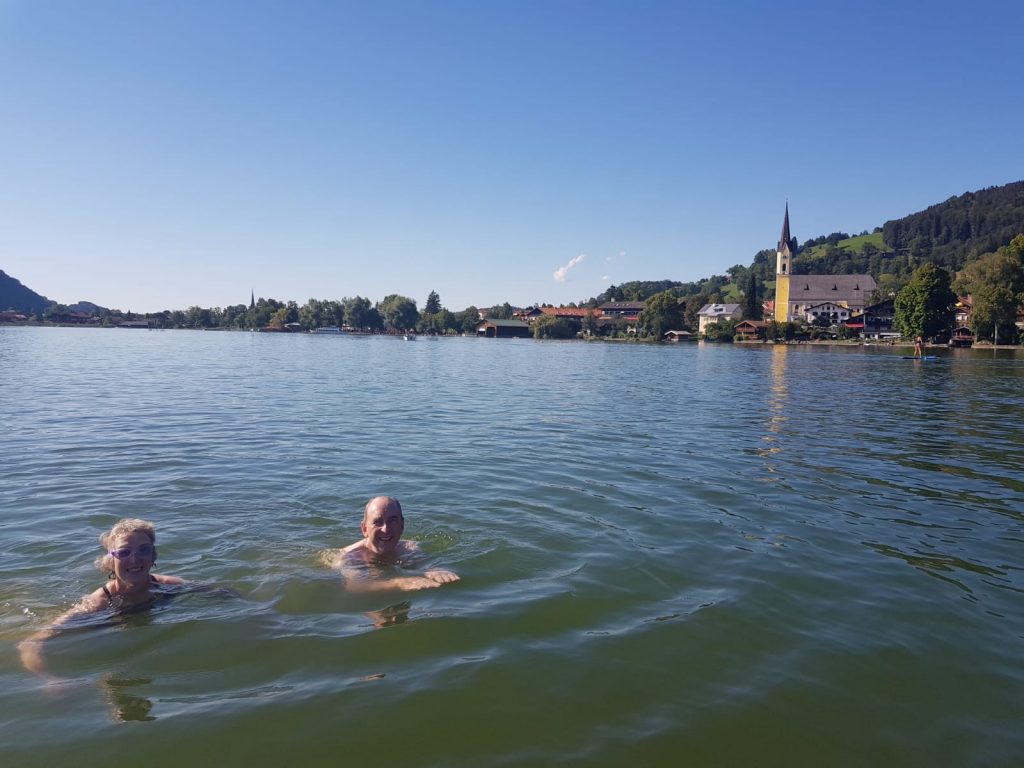 THE RHINE CYCLE ROUTE
After a lovely week in the mountains, Pete and I returned to Düsseldorf by train to retrieve our bikes and begin our cycling trip. Much of the cycling was on flood dykes by the river. In the 19th century, construction of flood dykes in the Upper Rhein shortened the river by at least 50 miles. In Germany we stayed in guesthouses which were part of the Bett+Bike scheme, so we knew there would be safe cycle storage. One of them was a Schloss with huge rooms and suits of armour! We enjoyed the challenge of keeping up with the river barges, although we lost them on the days when there were frequent river crossings.
After 3 days we crossed the border at Millingen an der Rijn into the Netherlands. It was here that we discovered (in spite of Brexit) that UK, Ireland and the Netherlands share the same storms, and that flood dykes are very exposed to oncoming wind. We battled 44 miles against Storm Francis, barely able to stay upright on our bikes! From then on we were in the land of windmills, cycling through the world's only drive-through windmill at Wijk bij Duurstede, and past the UNESCO heritage listed system of 19 windmills at Kinderdijk, built in the 18th century.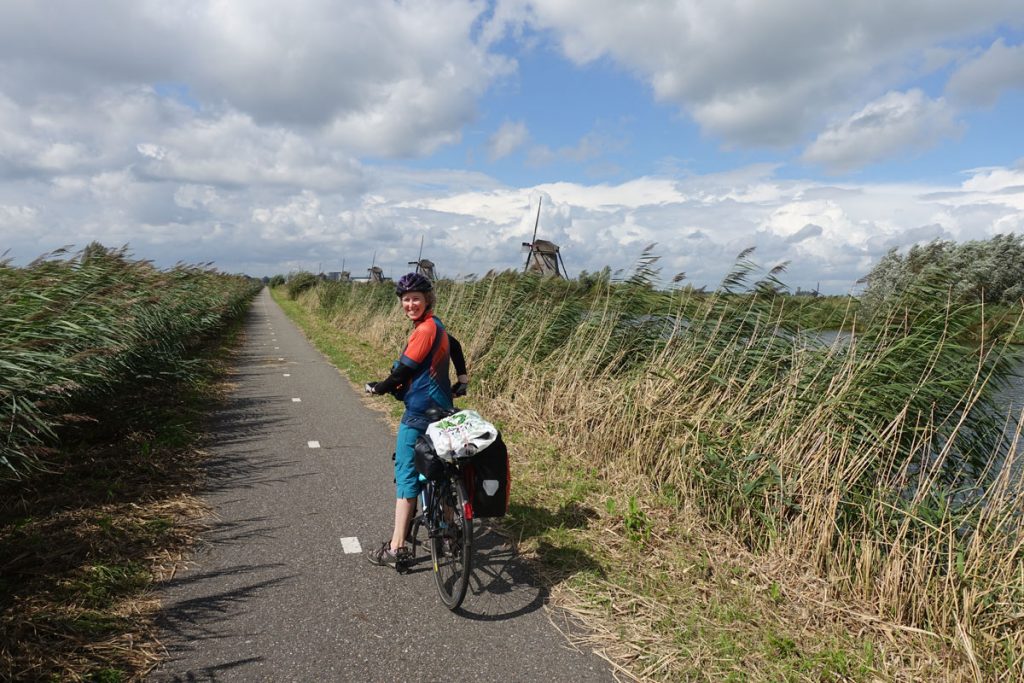 The last day or two were wet and windy. At the northern end of the cycle route in Hoek van Holland we had to retrace our steps to Maassluis so that we could cross the river and cycle to Europort for the return ferry to Hull. There I was given another visual appraisal: "you will probably want to push your bike up the steep ramp to the ferry car deck". I did not and cycled all the way up! The Pride of Rotterdam ferry was like a ghost ship. It was sad to see the way the ferry was impacted by the imposition of quarantine for people arriving in the UK from the Netherlands – we were the only people at our sitting for breakfast, and one of only three couples for dinner. It cannot be a sustainable business model, where the crew outnumber the passengers. Our final leg of the journey was by train from Hull to Selby and then home by bike along the cycle track from Selby to York.
ARE WE GLAD WE WENT?
Absolutely! We spent nearly all our holiday out of doors, which is the safest environment for avoiding Covid-19. The fresh air and exercise did us the world of good. The measures taken against the virus by the German and Dutch governments were as stringent as in the UK, and we felt reassured by the requirements for social distancing, use of hand sanitiser and face masks. We were as safe on the continent as in the UK, and there were no issues with our use of public transport. Above all, we were grateful that our holiday was able to go ahead and we had a very enjoyable time! We have now completed the Rhine Cycle Route north of Karlsruhe, and are already planning next year's trip from the source of the Rhine in Switzerland….
---