Editor: The Revd Canon Derek Earis
Contents
---
LETTER FROM AN (EMPTY) VICARAGE by Revd Derek Earis
Dear Friends,
In order to teach people about God and the Kingdom of Heaven Jesus told stories – we call them parables. They are among the best loved parts of the Bible and often in their simplicity more profound than the most intricate theology. So it should come as no surprise (although it does) that some of the most interesting modern novels, films, television drama or theatre can also point us to God through their characters and their actions. They are certainly not marketed as religious and even seasoned reviewers often don't make the connection with God but for those with the eyes of faith and ears to hear it is there.
So it is that as holiday reading I recently read the beautifully written debut novel of Sally Magnusson, daughter of the late Magnus Magnusson of Mastermind fame. Called "The Sealwoman's daughter" (2018). It is a novel which starts and finishes in Iceland and is endowed with the sagas and culture of her native land. But much of it is about a very different culture. It tells the story of Astra, a young Icelandic woman who marries a far older Icelandic Lutheran priest. Catastrophe comes in 1668 when Barabary pirates arrive and sweep her and her family and hundreds more to a slave ship bound for Algiers. She is transported from freedom to slavery in a different world. One that is no less devout but where all is Moslem. A world of heat and spice and flavour. Her agonising, suffering, accommodation, growth as a person and eventual traumatic return are intricately and sensitively told. It was a book I was reluctant to put down and didn't want to end. Throughout it both Astra and her husband (who for much of the book has gone to try and negotiate a ransom) agonise where God is in all of this. Here are no easy answers about God but this story (based on historical events) taught me much about the human quest for God and I commend it to you.
As well as books there are films and some also have profound insights for those able to understand. So also, courtesy of Netflix, holiday viewing included a film simply called Puzzle (2018). It tells with skill and charm of a bored housewife (Kelly Macdonald) , somewhat taken for granted by her husband and family, who through a birthday present (she organises her own party) discovers a talent for jigsaw puzzles. When she meets a fellow puzzler from a very different culture and background played by the famous Hindi Indian actor Irrfan Kham, who sadly died earlier this year, and they enter a competition her world changes and many conflicts of duty arise. She is a devout Catholic and the transformation of her world, often challenging her religious orthodoxy takes place significantly between Ash Wednesday and Easter Day.
These are but two examples that I have greatly appreciated. I believe they are not unusual and that many of the best books and films have insights for those able to see them while being good and compelling stories in themselves. Parables did not cease in the Bible but gifted storytellers and film-makers continue the tradition, sometimes without even realising it. It is intriguing how often it passes the critics by as well. How ironic that God has hidden messages from our time and never leaves himself without a witness, often from the most surprising quarters.
I hope you enjoy reading our other contributions in this issue of Touch Base based on the theme of "God and the creative Arts" and find God yourself sometimes in unexpected places.
With every good wish,
Derek.
---
RETURNING TO ST OLAVE'S CHURCH AFTER LOCKDOWN by Margaret Eyre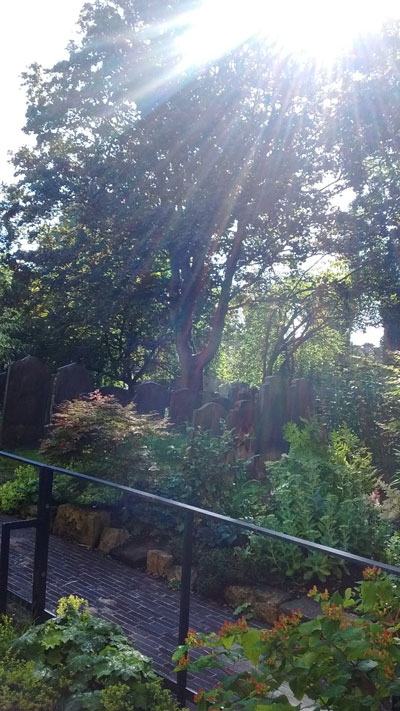 Lockdown for me has been less different than for many as I have continued to go into work every day, trying to help our most vulnerable kidney patients cope with the challenges imposed by the pandemic. This, including all the uncertainty and fear over the future, has made everyday life more challenging and stressful, and the St Olave's online services have felt like an oasis and a homecoming after a busy week.
The Sunday 10.30 slot has had a new intimacy due to coming from people's homes, and has made me feel cocooned and newly connected with my fellow Christians, although challenged and in no way shielded from the difficult questions of the day. Furthermore, it has had the wonderful bonus of our being able to welcome back members of our congregation too unwell or frail to have been able to participate for some time, as well as those who have moved away but still feel a connection to St Olave's, and to include those deemed clinically extremely vulnerable who have been shielding.
Because this new experience has been so special, I suppose it is hardly surprising that I have had some ambivalence about returning to St Olave's in its current form. It is undoubtedly wonderful to be back in our sacred space, to worship together, to see people face to face (albeit with face coverings) and to be able to have "normal" conversations again. However, I am very conscious of the fact that there are only 18 places in church in our new socially distanced arrangement, so the majority of the congregation are effectively excluded, making a newly fractured community. It is difficult to foster a sense of reverence with the new rules on hand sanitising and receiving communion, and hard to see how best to involve families. I greatly appreciate the organ music provided by Keith and Max, but I find the lack of singing very difficult, as I know do many others: making music to the glory of God a vital part of who I am, and there is a big void without this.
However, after the first service I went into the church garden, to be greeted with brilliant sunshine breaking through the trees. This seemed wonderfully symbolic, a sign of the resurrection and a new beginning, the first tentative step towards a rebuilding of our main Sunday service, precious to so many of us for a variety of different reasons, but likely never to be the same again. May we learn from our positive experiences of "going online" and take this creativity and inclusivity into reimagining our worship and witness in the months ahead.
---
RETURNING TO ALL SAINTS PAVEMENT by Marie Taylor (Secretary of All Saints Pavement PCC)
When I received the letter from my doctor stating that I was considered extremely vulnerable and couldn't leave my flat for 12 weeks one of my first concerns was how was I to get any church services. Luckily with the technology of James Ratcliffe and the work of the clergy and other members of the All Saints family this was covered by the online services which were held. Unfortunately as I have not got a camera on my mainframe I was not able to participate other than being a spectator and treating my neighbours to my tone deaf singing. The after service coffee was a problem also as my phone often kicked me out or muted me.
Luckily the powers of government said I could start going to church from 2 August but as I was away then I didn't manage to attend until the following Sunday. This was brilliant because I was actually able to interact with my friends without them being on TV and to see them in the flesh was a great boost to my morale which I must admit at times was really quite low especially before I was allowed outside. Being a part of our wonderful services has been great and I think the videoing of the services is a good idea as it has brought to the church many people who would not otherwise have been able to attend.
Best wishes, Marie
---
RETURNING TO ST DENYS CHURCH by Muriel Daniel
The re-opening of our church proved so welcoming after the closure necessitated by the coronavirus. The beauty of the newly restored church, enhanced by the work done in the churchyard by enthusiastic church members, is an invitation to all. Inside everything looks immaculate. Such hard work had been done to greet all regular church members and to welcome newcomers.
Two friends told that me that they had visited St Denys during the open days. Both said they found it a beautiful homely church – with such a friendly and welcoming feel – despite being there by themselves.
Coming to our church service last Sunday was a great joy – a gathering of friends under the caring guidance of Revd Brian. After the service it was masks off and a good old chat in the churchyard.
We were back home.
---
HARVEST FESTIVALS IN YORK CITY CENTRE CHURCHES
Come and join us as we give thanks for God's bounty in creation and reflect on how we can be good stewards of all that is richly given to us.
ST HELEN'S: Saturday September 19th at 12 noon
ST OLAVE'S: Sunday September 20th at 9am (Live) and 10.30am (Online).
ALL SAINTS PAVEMENT: Sunday September 20th at 10.30am and 6.30pm
ST DENYS: Sunday October 4th at 10am
---
GOD AND THE CREATIVE ARTS: SCULPTURE by Charles Gurrey
Derek Earis has kindly asked me to write something about a couple of pieces of work I have done for churches. I thought I could stay close to home and write about two pieces in Yorkshire; one in Ripon, at the Cathedral, and one in Doncaster, at St Lawrence's Adwick Le Street.
At St Lawrence's, they remember – amongst much else in the fascinating history and archives of this church – Richard Rolle. He died in 1349, at Hampole nearby. He was a mystic who seemed from the evidence of his writing, to be a man with an urgent, physical and immediate passion for God, and who willingly underwent isolation and austere living as a hermit to fulfil what he felt to be his spiritual vocation. Evelyn Underhill talked about Rolle as a young man who 'ran off to God' as another might have 'run off to sea'.
In such writings as The Form of Living and The Fire of Love, the latter written prior to 1343 – a generation before Julian of Norwich – Rolle gives us the first prose works of medieval English. He was one of the great English writers, and perhaps the first to employ the vernacular. Lyric poems like 'The Prick of Conscience' put scholasticism aside and re-install feeling. In standing against the absorption of religion by the interested classes, he can be seen to re-assert the individual, and individual conscience, as a predecessor of Wycliffe and Luther (Horstman 1896). This writer of feeling, trusting the inspiration of the moment, made the North – Doncaster – the literary centre of the country for half a century.
At first, in conversation with Ann Walton, vicar at St Lawrence's, I was suggesting lettered panels that could celebrate some of Rolle's words.
WHEN WILL THOW COM TO COMFORTH ME AND BRING ME OWT OF CARE
The DAC didn't go for this. They wanted something more accessible to young people.
This led on to the idea of a carved oak panel with some kind of representation of Rolle (what could that be?) but with imagery from The Fire of Love – the Open Door; Heat (always the theme of the fire within); Song (like that of the nightingale); and Sweetness (only honey in the 14th century). For Rolle these are set down as imagery for four purgative stages one must pass through, to become closer to God.
The panel is 750mm high, and set in the north aisle onto a panelled section in front of the organ, designed by the church architect, Andrew Wiles.
At Ripon, the previous Dean, Keith Jukes, had a passion for the writing of Wilfred Owen. This coincided with the anniversary of World War One – still fresh in 2013 – and the fact that Wilfred Owen had been billeted in Ripon, near the Cathedral for some weeks, before his final, fateful, return to the Front. Owen wrote and revised a number of his significant poems, with a view to publication, during this stay.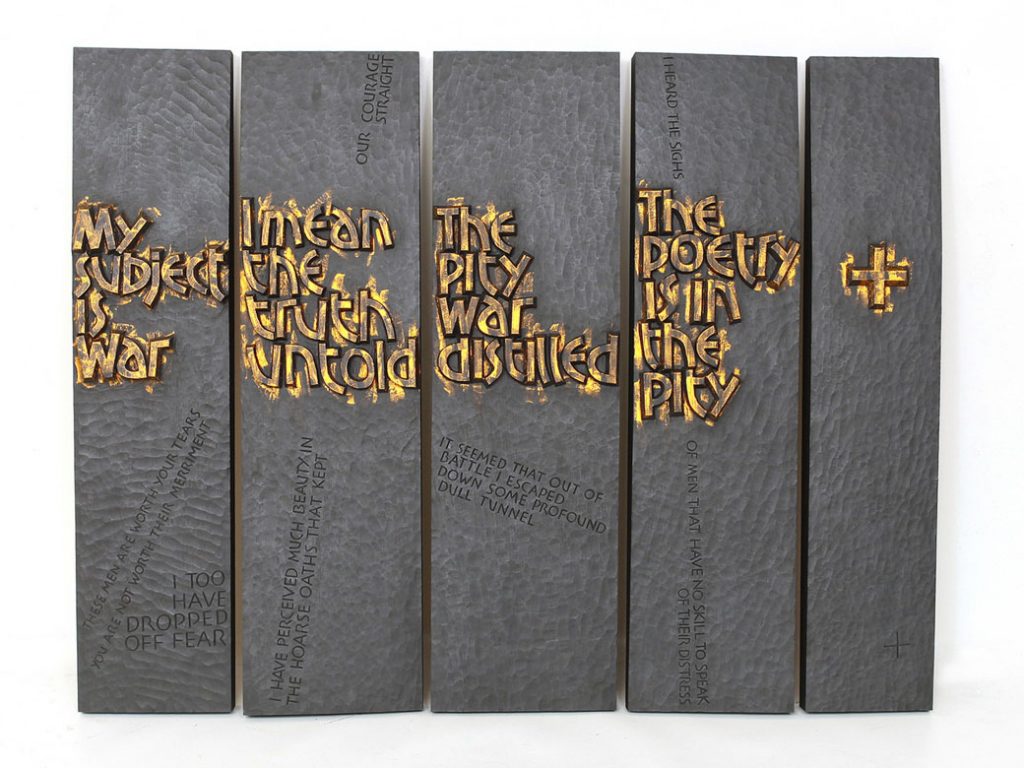 A suggested site for some kind of tribute (on a fairly restricted budget), was the chapel of Peace and Justice in the north aisle of the Cathedral, dominated by the medieval canopy or Bishop's Throne hood. The architect, Oliver Caroe, suggested that this could be moved if needed, at least lifted out of eyeline.
I wanted to focus on Owen's words, and not make a monument for its own sake. The principal words work like a roundel, a phrase that modulates, and feels as though the order of phrases hardly matters. These are set across several vertical dark oak panels, gouged and treated with graphite. These panels recall palisades; dead men standing; duckboards, whatever. In small lettering, set somewhat at random, are further lines of Owen's that one sees on closer inspection, and being closer, maybe one rubs a finger over the words, picks-up some graphite on one's finger – and that is good.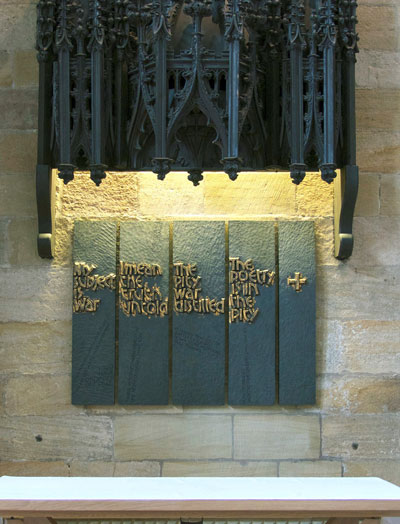 This proposal sits well in relation to the Medieval canopy which wasn't moved. The donor for the work was Paul Sykes, a mainstay of the Brexit campaign. We had good frank conversation when he visited my workshop, and disagreement doesn't mean I don't understand well what his origins in Barnsley taught him about working class dignity and its erosion. At the dedication, he was accompanied by Frank Field. It is interesting who talks to whom. Hopefully, Owen speaks through this tribute, and the late Keith Jukes, who never lived to see the work completed, might feel satisfied that the Cathedral had acknowledged a true witness.
The last panel carries a cross. It's far from clear how much faith, if any, Owen had left by the end.
---
GOD AND THE CREATIVE ARTS: PAINTING by Frances Brock
Can you tell what it is yet?
Those of us of a certain age may recall the seeming magic which accompanied these words. We watched as the artist conjured up an image unrecognisable until the final brush strokes were placed.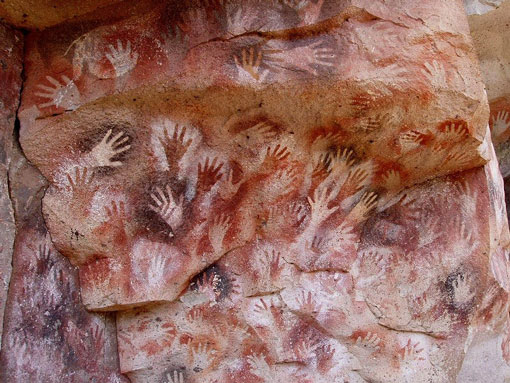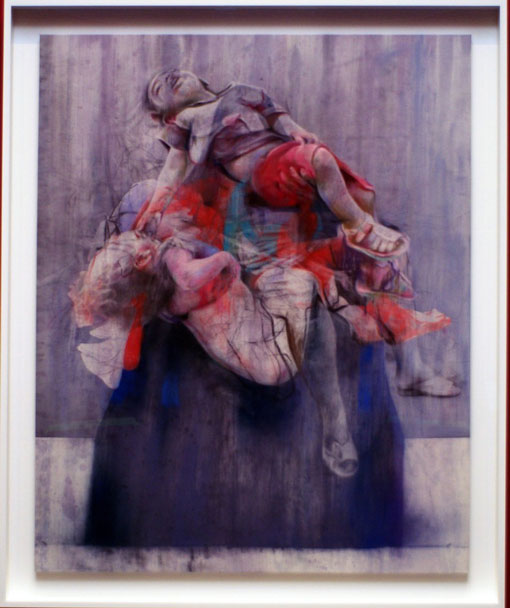 There are as many different approaches to the act of creation as there have been human beings; from the hands stencilled in a cave in 7000 BCE in Argentina, to the moving painting by contemporary UK artist, Jenny Saville, mourning the dead children of Aleppo.
Some artists have a clear vision of the intended work, while others work in the dark, rather like the lines from a beautiful hymn by Sydney Carter:
'Dig Michaelangelo, down in the marble
A wonder is waiting which noone can see;
Always and ever, and now and forever,
I'm looking for someone that's looking for me.'
When teaching, I'm often asked 'how did you do that?'.
Part of the answer is 'experience'. The way to learn anything is by doing it a lot, finding out what happens, what you like and don't like about the results. This is really about gaining skills. But I feel there's little point in copying how another person paints/writes/lives. We may learn from each other, but, essentially, we ourselves must do the work, whatever that may be. As we do it, we will discover the pleasure of the doing. This is why I paint. Sometimes the results please me (and no one else!); sometimes, they please others, and that's a bonus. But the point is the doing.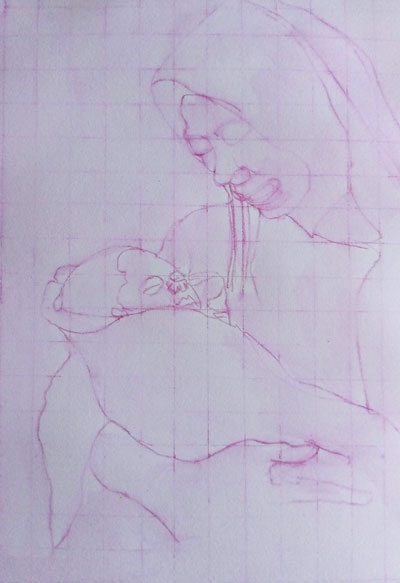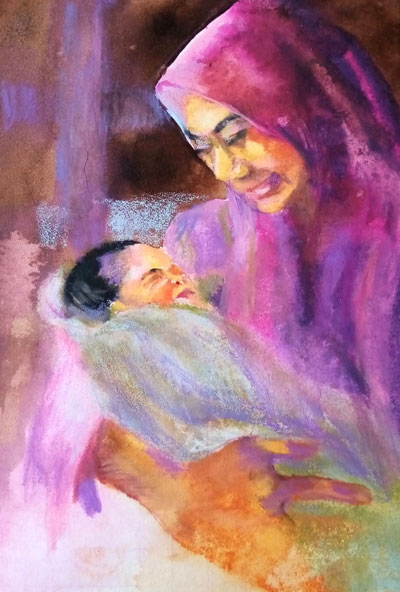 I am easily bored by repetition, and so I personally approach painting in a variety of ways, sometimes starting with no clear idea, just playing with the materials, seeing what happens; sometimes working from a specific image. In the latter case, I begin with a structure – then start to mess it up!
Each painting is a process of discovery, listening to what the painting is telling me, entering a mystery which is both un-nerving and liberating. As the painting develops, some parts disappear, some emerge, but everything is still beneath, a part of the whole.
---
ORGAN BUILDING IN NINETEENTH CENTURY YORK by Dr Maximillian Elliott
Thou shalt buzz no more…
Question: what makes a PhD thesis worth reading? Answer: tales of arson, sabotage, bankruptcy and imprisonment! As many of you will know, I have spent the last five years reading and writing about the organ-builders of nineteenth-century York. Sixteen independent organ-building businesses were active in our city between 1814 and 1921. Craftsmen such as John Ward, Robert Postill, William Denman, John Dorrell Denman, Thomas Hopkins and Walter Hopkins led fascinating lives and now you can read all about them in my thesis: 'Thou shalt buzz no more': an examination of the organ-building industry in nineteenth-century York; its origins, growth and prominence. If you would like to download a copy, please visit yorkorganhistory.co.uk. Although I officially graduated on Wednesday 26 August, doctoral research never truly ceases and I will continue to update the above website with new information as and when it emerges. I am immensely grateful to everyone at St Olave's Church (particularly the Holy Dusters!) for their support and encouragement over the last five years. I hope that you enjoy the thesis!
---
GOD AND THE CREATIVE ARTS: WRITING by John Bowen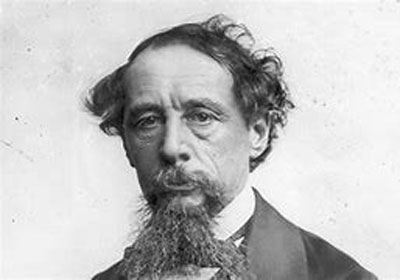 CHARLES DICKENS AND CHRISTIANITY
The link below is a video by the Professor of Nineteenth Century Literature at York University John Bowen who gave this online talk to the Evensong Congregation at All Saints Pavement on 14th June this year. This year marks the 150th anniversary of Charles Dickens death and this talk is a profound and wonderfully sympathetic summary of how Dickens expressed his Christian faith through his writing and thought.
---
GOD AND THE CREATIVE ARTS: CRICKET! by Peter Wells
"Jesus immediately reached out his hand and caught him." (Matthew 13.47)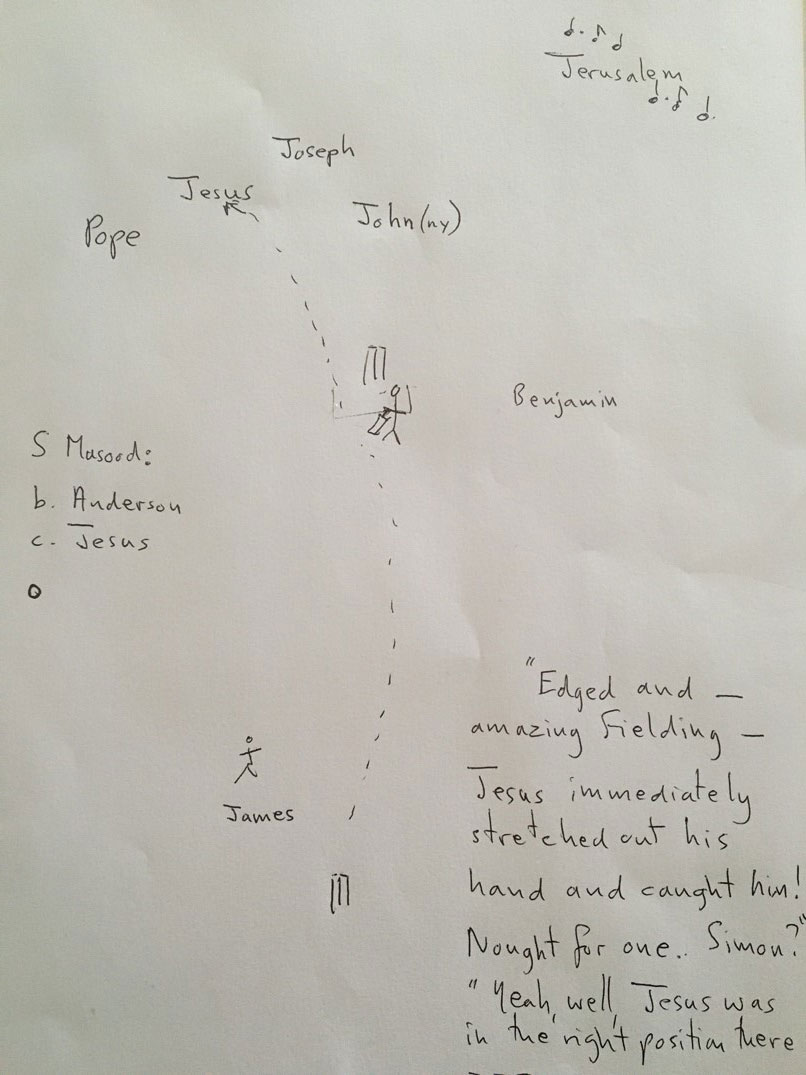 "It is strange how many parallels there are between some aspects of sport and religion," Derek wrote in his recent reflection for August 2nd (which, if you haven't read it yet, I recommend to you). This reminded me of a BBC Daily Service Margarete and I listened to, once, in which a well-meaning bishop compared Jesus to Geoffrey Boycott. If you've ever listened to Test March Special, you will know how bizarre the analogy is, but the Rt Rev felt that they were both examples of great coaches and role models, with Jesus just edging it.
When we had recovered from an extensive fit of helpless laughter, Margarete and I prolonged the mirth by devising sayings of St Geoffrey that didn't make it into the New Testament, and here are a few of them. Thanks also to Malcolm for his Yorkshire-themed sermon on the 9th, which provided additional inspiration.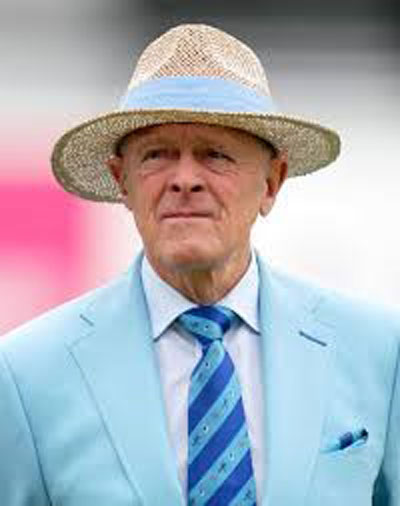 "Blessed are the pace bowlers – I've seen some blessed pace bowlers in my time …"
"My grandmother could face Brian Satan with a stick of rhubarb!"
"I always believe the Umpire's decision is final – even if it's a Roman Umpire …"
"You see, the trouble with Peter and Andrew is they've been neglecting their nets – and what's the result? Fishing outside the off stump! Well it's not them that'll be doing the catching, I can tell you."
"I don't care if you are a Baptist, Jonathan, I'll still never work out how you got to pray for England!"
"Who wrote this modern version of the Lord's Prayer? 'Do not bring us to the Test!' I don't think much of that …"
"Let the wicked turn – Shane Warne could get some wicked turn on a drying pitch …"
"Be bold? An opening batsman should never be bowled. But these days, you see, they don't know how to block …"
"Now you see there Pontius Pilate's been caught in the corridor of uncertainty – he doesn't know which way to go. He'll not be in long …"
"Nothing is covered up that will not be uncovered – and if we kept to that we'd see more decent spin bowling in England …"
"Well, sorry, but a one-dayer in thy courts is nowhere near as good as a five-day Test at Headingley."
"There's no such thing as a foolish maiden in my book – five in a row is proper Test cricket …"
"Look at that – middle stump knocked out of the ground! Now that's what I call a holey trinity …"
Lots more fun to be had inventing more of the same, for those who know what I'm talking about – and if you've never heard the curmudgeonly former England opener in full flow, you've missed one of the treats of British sporting comedy. May God bless him in the pavilion of his retirement – a place where, as he was wont to remind us, you don't score any runs – except, perhaps, spiritual ones.