Editor: The Revd Kingsley Boulton
Contents
News and Notices
---
LETTER FROM THE RECTORY
by the Revd Liz Hassall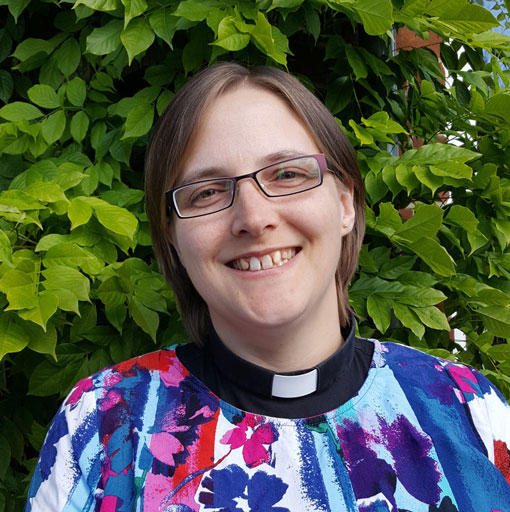 Today, the water board moved in to the road directly outside my study so I am writing this against a background of shuddering walls and floor while trying to remember that this is a temporary state of affairs and that peace will prevail again in a couple of weeks once the rather large hole has been filled in.
It seems to me that this is a good metaphor for where we are at the moment. We can characterise most of 2020 as being in the midst of drilling and upheaval. We are now at the stage of looking into a big hole and wondering how long it will take to fill it in again and whether we should fill it with the same things, or something new.
Most of the time, now, we are trying to salvage what has been and recover what we can from the destruction of the pandemic. Gatherings may not look quite as they did a couple of years ago, but we can manage some limited social things. Worship is creeping back towards normal, but with some caveats. We have discovered some new things to do and adapted others.
We do need to remember how our church life looked before and what has changed. On the other hand, we also need to look ahead to what we could be, to what God is perhaps calling us to be and to do. So, as we contemplate this large hole that the pandemic has opened up among us, let us pray that we will be able to hear God's plans for what could be as well as our own plans to recover what once was.
Thanks again to Kingsley for bringing together a really interesting collection of articles from across the City Centre and to Tina for applying her IT expertise.
Revd Liz
---
THE SEASON OF REMEMBRANCE
by the Revd Kingsley Boulton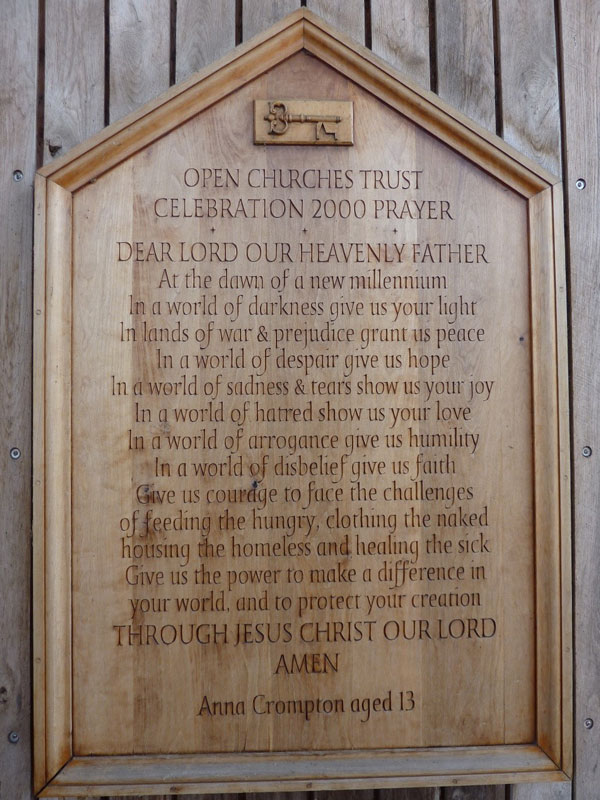 The month of November is in many ways a month of remembrance, a month of remembering. These last few weeks at the end of the Church's year are a period to look back, to reassess, to consider how the past affects our lives now. When we move to Advent at the end of the month our focus will be more one of looking forward, of anticipation.
November begins on the first with All Saints' Day when we remember with thanksgiving the life and witness of the great multitude of saints, of faithful men and women down the ages, particularly those whose names have not come down to us. We celebrate their example and are reminded that we too are called to be saints, God's holy people. For in the New Testament the "saints" were all those who sought to follow our Lord and Saviour Jesus Christ.
Then on the second we mark All Souls' Day when we remember with affection our departed loved ones, those who have influenced our lives, those who have given us love.
Finally on 11th November Remembrance Day is held, with Remembrance Sunday on the nearest Sunday, this year on the 14th. We remember with gratitude those who gave their lives for the cause of freedom, particularly in the two World Wars but also in other conflicts since. It is an occasion as well to pray for peace, for an end to war and conflict.
The different articles in this edition of Touch Base offer us memories of very different kinds. Marie Taylor and Derek Ralphs focus on the ways in which Remembrance Day is marked. Peter Wells and David Simpson offer us thoughts and memories relating to funerals and death. Dianne Willcocks shares some personal memories, and Brian Harris shares his view of priesthood in the light of his long ministry. For some people memories are sadly lost, and Damian Murphy helps us to understand something of dementia and practical ways in which churches can help.
In 2018 a group of us from the York city centre churches visited the National Arboretum in Staffordshire and I found the millennium prayer above composed by a 13 year old girl particularly moving and challenging as we look not only back on the past but also at the present and to the future.
Kingsley Boulton
---
WHAT IS REMEMBRANCE AND WHY IS IT IMPORTANT?
by Marie Taylor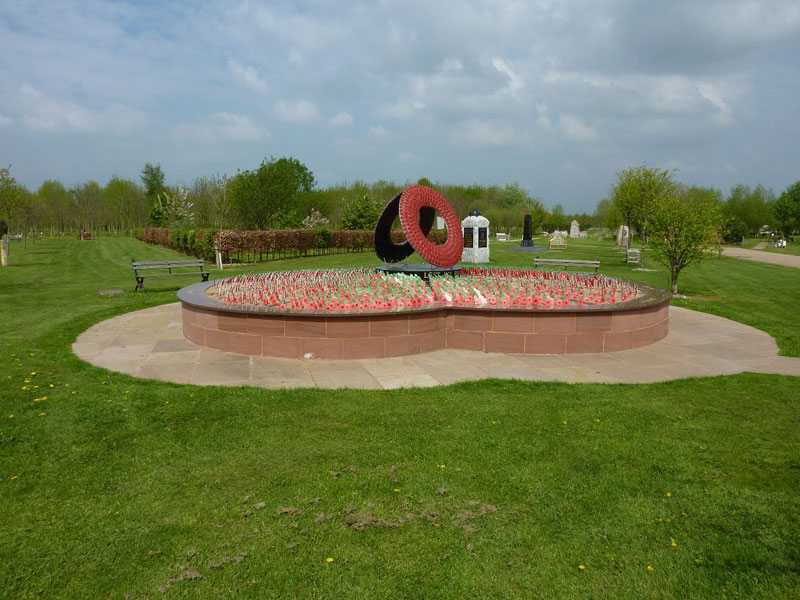 Remembrance as we know it has been for some time predominantly focussed on the First and Second World Wars. Whilst this is important remembrance must always include any time our Armed Forces are called to the defence of our country and people or where they have been sent in response to a request for their help.
Several conflicts have occurred in the interim since the end of the Second World War. These tend to get forgotten but just this weekend I was told that the Royal Naval Association now has more Falklands veterans than Second World War veterans. The sacrifice of those who died continues and this, plus the care of those who returned damaged in body and mind, must not be allowed to be ignored.
When the Falklands started I was at HMS Heron at Yeovilton from where the Sea Harriers and helicopters on board ship originated and several people I knew were killed or died as a result of this conflict. I also know their widows. Some of my friends were present during the conflict and have mental scars from their experience.
Why were our Armed Forces sent to fight? To defend citizens rights and freedoms. That is always the main criteria for our involvement. We need, therefore, to remember the dead but also the living and our prayers for their recovery or recouperation are needed.
Since Afghanistan several of those who fought there have committed suicide and this figure has increased since the Taliban have returned to power. This is because they lost their comrades and feel that they died for nothing. After other conflicts this has not been the case and despite organisations to help many still feel isolation. This, I feel, is partially due to there not being others nearby who have had the same experience especially when they have left the forces.
Please remember in your prayers at this Remembrancetide both those who have died but also those who have injuries both mental and physical.
Marie Taylor
---
REMEMBRANCE DAY REFLECTIONS
by Derek Ralphs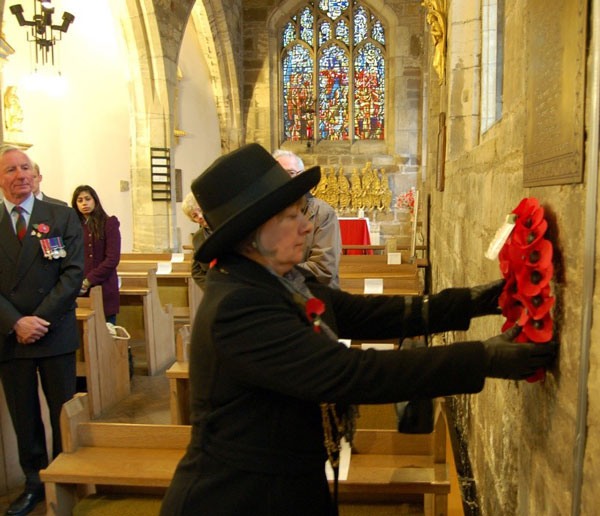 In my photo-journalist career, spanning 50 years on regional daily and weekly newspapers, one assignment remained unchanged year after year: the Remembrance Sunday parades. From a large national event, as the one held at The Cenotaph, in Whitehall, London, to a small intimate commemoration, such as we hold each year in St Martin's Church, York, at the 11th hour on the 11th day of November, the tradition is the same: laying wreaths of red poppies at a war memorial, honouring the fallen in the two World Wars of the 20th century.
In the mid-1970's something changed that tradition in my home town of Bolton. The orderly laying of red poppy wreaths at the town's War Memorial in Victoria Square, led by the Mayor, and followed by a long line of representatives from local organisations, was joined one year, at the end, by a small, smart gentleman in a hat and raincoat. What marked him out from the rest, was the wreath of white poppies and flowers which he carried to the memorial. Jeers and shouting broke out among some in the crowd, and within minutes of the white poppies being placed, someone came forward, grabbed the wreath and promptly threw it into a nearby waste bin. However, it didn't deter this same gentleman from repeating his action the following year, and at every Remembrance Sunday parade until his death, aged 90, in 2010.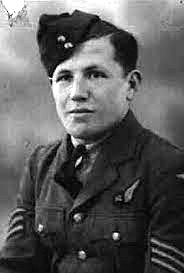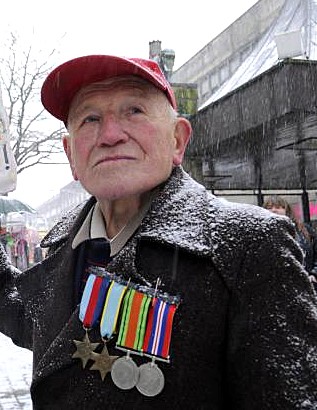 What the crowds didn't know then was the gentleman's name, or his background. He was Bertie Lewis, a former RAF Flight Sergeant with Bomber Command, flying over 40 missions in WW2, in Halifax bombers. Whilst a large number of his comrades perished, Bertie was one of the lucky ones. He was an American, born in Chicago, who never relinquished his American citizenship, who flew with the British, and settled in Bolton at the end of the war. In 1961 Bertie became a member of the local CND branch – 'The Campaign for Nuclear Disarmament' – and despite his RAF background, he became staunchly anti-war, and began holding peace vigils in Victoria Square every Saturday.
After Bertie's death, many of his friends and supporters campaigned for a flagstone to be laid in Victoria Square, close to the War Memorial where Bertie laid his wreaths of white poppies, and quietly held his peace watch every weekend. It is a lasting tribute to the man described as "a true internationalist who made his home in our town". The plaque reads "Bertie Lewis – Fighter for Peace and Social Justice". And as one person commented in the local newspaper: "Blessed are the peacemakers".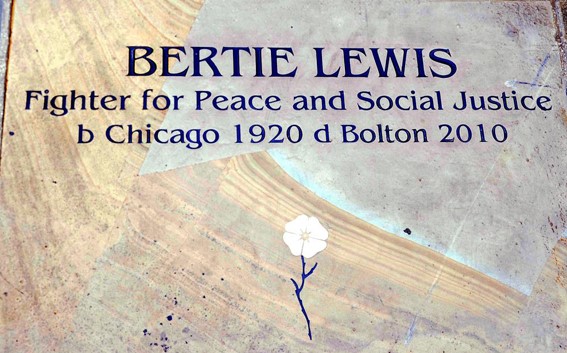 Nearer to the present day, like thousands of others, I recall November 2020 when Remembrance Sunday Services were either cancelled completely, or took place 'virtually' via internet Zoom links. Covid-19 and the pandemic lockdown regulations had closed all places of worship. Even the Service of Remembrance from The Cenotaph in London's Whitehall was a much reduced 'socially distanced' event. This year, hopefully, once again and with due dignity, and in open churches, we will be able to commemorate Remembrance Day, and also the festivals of All Saints and All Souls.
Derek Ralphs
---
AND RISE IN GLORY
by Peter Wells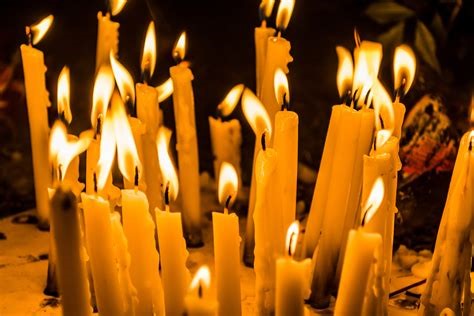 At my Mum's funeral I stood in the congregation, a callow youth of 45, and watched a surprisingly small box being carried into the church. I said to myself, somewhat portentously, 'My mother is in that box.'
But another voice answered immediately, 'No. Your mother is not in that box. She is in many places. She is in your memory, in your heart, in her grandchildren, and in Heaven. One place she is not, is in the box.'
Revelations
As a comparative newcomer to York, when I attend funerals, they are those of people I have known only as elderly – reserved, retired, restricted, fragile, and often in pain.
Their funerals, therefore, are a revelation. Suddenly we hear about these saints as they were in our past, and still are in God's present: active grandparents kicking a ball in the park, helpful neighbours with available lawnmowers, volunteers, leaders of their community, aunts and uncles, artists, musicians, tradespeople, employees, friends, local athletic heroes, promising teenagers, babies who did (or didn't) cry at their baptisms.
Funerals should not celebrate our friends' curricula vitae, but the things that made them unique: their bizarre Christmas presents, curious hobbies, weird preferences in TV soaps, dreadful jokes, collection of surprising objects, prowess at French cricket, their Yorkshire puddings. In the eulogy, these memories are, we might say, 'resurrected.'
And not only their quirks, but their characters come to life again. While in training as a Reader I attended the 'Celebration of Life' of a lady in a neighbouring benefice. I had never met her, and can't remember her name, but I will never forget her story.
Shortly before they were due to marry, her fiancé suffered a terrible accident, making it unlikely that he would walk again. Instead of moving on, she married him, and devoted her life to getting him to walk. Which he did. Unable to have children of her own, she devoted her life to the care of children. She was known as the lady who loved children.
What excellent Reader training! I was hearing the Gospel – the Good News of the God of healing and joy incarnate in Outer York.
A quiet neighbour passed away a few years ago. A man of no fame or influence, inactive in the community for the last twenty years of his life because he was caring full-time for his severely disabled wife. Who would go to the funeral of Mr Nobody? "Well, I'll go," said a man from down the street, "because nobody else will. And he was a decent bloke." I went too.
It was packed.
"The souls of the righteous are in the hand of God, and no torment will ever touch them. In the eyes of the foolish they seemed to have died, and their departure was thought to be a disaster, and their going from us to be their destruction; but they are at peace."
Not in a box; not in a hole in the ground
Two thousand years ago an itinerant preacher and healer in the Middle East was arrested because his views had offended the religious leaders of his nation. He suffered a cruel and ignominious death by crucifixion at the hands of the imperial power. We might never have heard of him had not his followers become convinced that his apparent defeat was, in the eyes of God, a victory. They believed that he had been God incarnate among them.
As a result, we now know that Jesus, like my mother, is in many places. He is in us when we gather as a church. He is in the bread and the wine. He is in the New Testament. He is in our hearts. He is in Heaven with his Father. One place he is not, is a hole in the ground.
There is no shame in being sad at a funeral. Death, as our Lord knows from personal experience, hurts. He wept beside the grave of his friend. Our loved ones really do leave us. Our earthly life really does end.
Celebration of Incarnation
But, properly understood, a funeral is chiefly an opportunity to celebrate the way God works in the world through all sorts of people. If a funeral can be a gospel, then the Gospel is the ultimate funeral service: the celebration of Jesus's life.
Our Christian faith is rooted in the belief that 'God became human so that we might become divine.' Thanks, Irenaeus, Athanasius, Clement of Alexandria, Justin Martyr, Augustine, Cyril, Basil, Maximus, at least two Gregorys, and many more Church Fathers, for proclaiming this!
Thanks, 'John,' for saying that to all who receive Jesus, who believe in his name, he gives power to become children of God, born, not of blood or of the will of the flesh or of the will of man, but of God. Thanks, Paul, for telling us that we are the Body of Christ.
And thanks to the saint who said, "Christ has no body now but yours. No hands, no feet on earth but yours. Yours are the eyes through which he looks with compassion on this world. Yours are the feet with which he walks to do good. Yours are the hands through which he blesses all the world. Yours are the hands, yours are the feet, yours are the eyes, you are his body. Christ has no body now on earth but yours."
I used to work in a school attended by choirboys from the local cathedral. One day an announcement appeared on the staff noticeboard informing us that these boys would be absent the following afternoon, due to an 'important funeral.' Well, I know what they meant. But fifty years on, I'm still waiting for someone to explain to me what an unimportant funeral would be.
Peter Wells
---
ARRANGING YOUR FUNERAL
by the Revd David Simpson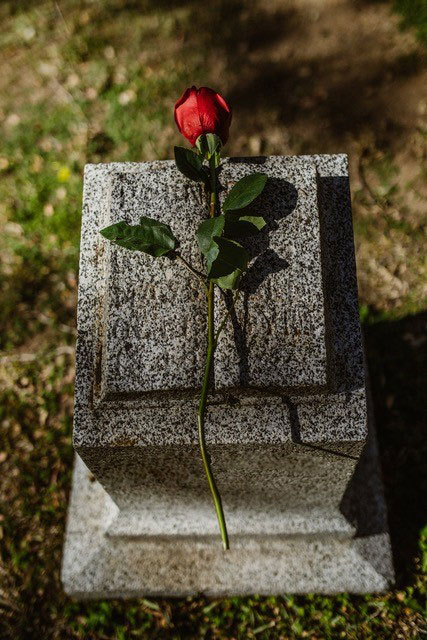 November is a month when we remember people who had died, whether on All Souls' Day or Remembrance Day. How do we remember people who have gone before us? It may be an object that the person once owned or a place they loved and lived in. Last April many of us saw the funeral of the Duke of Edinburgh and many of the things that were associated with the Duke from Land Rover, horses and carriage, to the medals and honours that he once wore. Prince Phillip himself had planned this for almost 18 years and in great meticulous detail, even having a special-built Land Rover to carry his coffin but that could also be used around the Windsor estate.
How would you like your own funeral to be arranged? Many times when I have been involved with finding out what the family would like in term of hymns and readings for their late loved one, they are not sure. So together we explore option of hymns and readings together. There is only one occasion that I had arranged the funeral while the person was alive and still is. It was something that the person felt they needed to do, to sort out the hymns and readings, so that the family wouldn't have to worry about what their loved one would want. The person gave me two readings and wasn't sure which of the two and when I looked at the readings, I realize that one was about the ups and downs of life and the other about one's faith and trust in God. As they were short readings, I suggested why not have both. We then went on to poems and all the other fine details of the funeral even to the point of having a draft order of service as well. You may seem to think all this is strange, but it isn't, not even to Prince Phillip.
I am sure that if you want to discuss your own funeral a member of the clergy and Readers will only be too pleased to talk and help you through all the fine details. Once drawn up, it can be lodged with the vicar and reviewed every now and again. And as I said afterwards 'It's all done, now get on with life'.
David Simpson
---
A SEASON OF SENTIMENTAL REFLECTION
by Professor Dianne Willcocks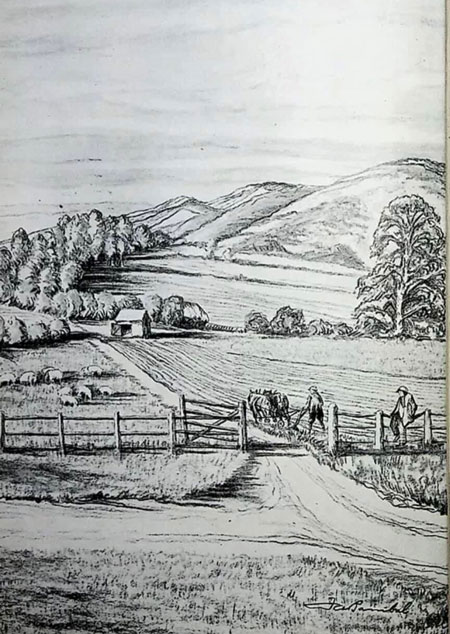 A season of sentimental reflection…. For me the late autumn means pressing that pause button; taking a deep breath; and stocking up on warm memories to see me through what can be, for some of us, a long and (both literally and metaphorically) dark period in the calendar, albeit punctuated by festivals of light and the Christmas story.
Like many, I have a happy recall of 'playing my part' in remembrance services as a child, carrying the Girl Guide flag alongside my Royal British Legion friends and neighbours in rural Herefordshire. Our St James garden of remembrance was a beautiful and fitting tribute to the departed and a lovely spot for reflection by the living; but the anxiety associated with the challenge to lower and raise my flag in exact synchrony with my elders and betters remains with me still!
Christmas festivities and candlelit carol services sit alongside all the familiar rituals of early morning stocking-raids and receiving 'the Christmas comic annual', which was of course age-related…but someone was always given Rupert Bear! The school nativity play, in 1950, gave me my first starring role…and to this day I can present as a compelling, word-perfect Angel Gabriel. And then there was the village New Year's Children's party with the ubiquitous fancy dress competition. One year I was mortified by my Mum's heroic but failed attempt to adorn me as the Christmas Fairy. She had constructed beautiful wire and net wings, at home, decorating them with tinsel. So far, so creative…. But on arrival at the Church Hall, we discovered she had produced two left wings!
Progressing through the early Spring included highlights like the pancake race…unfortunately my success in making said delicacies was not matched by any prowess in flipping them! But I particularly remember the joy of defying parental instruction on Ash Wednesday to have-a-good-wash before going to bed, advising my Mum that God would prefer me to wear my 'ashes' overnight… As the days lengthen and Holy Week approached, there was always massive competition for the most imaginative and testing Lenten promise. Forgoing blackjacks and sherbet lemon usually featured in my penitential 'bag'.
And then onto one of my favourite feasts in the Christian Calendar: Rogation Sunday. A cheery procession led by the vicar and a motley crew of choristers, would wander purposefully across fields and farms scattering blessings on mildly surprised sheep and cows as we ventured forth – endeavouring to protect our church raiments as we scrambled across brooks and clambered over stiles. A most enjoyable happening!
And so, as the summer sun fades and the darkening horizon heralds a change of season, maybe I have prompted cherished memories of other special moments and places, images that we all keep in our hearts to warm those wintry days and nights ahead!
Dianne Willcocks
---
PRIESTHOOD
by the Revd Brian Harris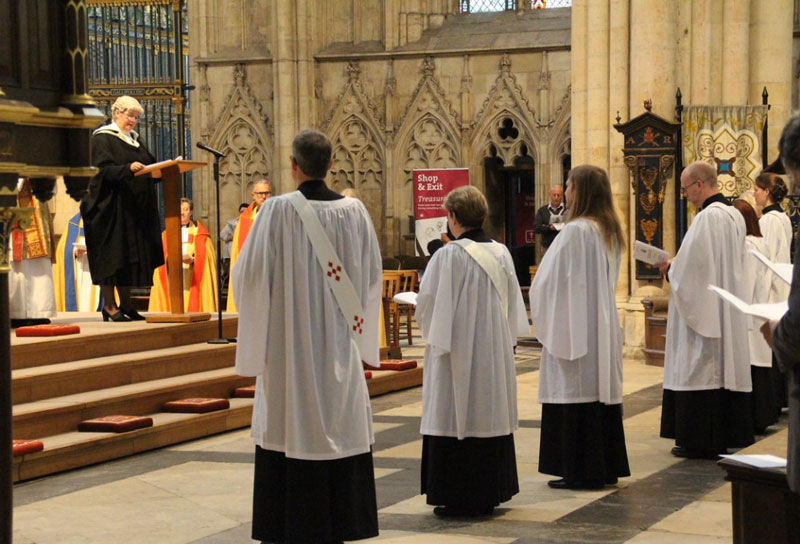 Crisis
That there is a crisis regarding the Ordained Priesthood is an understatement. Fewer ordained priests are being spread ever more thinly – being given charge of several parishes, sometimes as many as six or more. The result is that 'priests' become 'managers,' arranging and taking services rather than 'pastors' which in the Anglican tradition (see Ordinal) is the true role of Priesthood.
Many groups could not operate without the help of retired clergy, of whom many are only too willing and happy to be of service. This reveals a strategy where priests become purely service-takers (Mass Priests), and this is ultimately unsustainable. Furthermore, many clergy, because of the present arrangements are suffering stress and breakdowns. In a growing number of benefices, the Priest-in-Charge does not live in the community and/or has another job. This is a denial of the Incarnation.
The Eucharist makes the Church
The present situation reveals a more fundamental crisis – in the understanding of Priesthood itself. Theologically there is only one Priest – Christ our Great High Priest – who shares his Priesthood with His Church which is the Body of Christ – the Priesthood of All Believers (corporately). Within that Body, men and women are ordained to represent and articulate the Priestly function of the Body of Christ – most specifically in the Sacrament of Holy Communion at which Christ is the Chief Celebrant – the Eucharist being the central act of worship when congregations come together around the Lord's Table and are renewed as the Body of Christ. If the Eucharist is not there, the Church is not there as the Eucharistic community is the local Church." "The Eucharist makes the Church."
Another consequence of the shortage of priests is that many churches where the Eucharist had been restored as the central act of worship every Sunday, now have to be satisfied with once or twice a month, resulting in the disintegration of the locally gathered Christian community and the eventual demise of the Parochial system which is the basis of the Ministry and Mission of the C.of E established.
The integrity of the local church
The central issue, therefore, is the integrity of the local church. An individual Christian belongs to Christ sacramentally by belonging to Christ's Body, the Church, and this Body is realised in the local congregation to which the Christian belongs. Each local church is a microcosm of the universal church 'a manifestation of the Catholic Church' (Schillebeeckx). Each local church ought therefore to have within itself, as part of itself, the ministries which it needs to build itself up and sustain its life in Christ. 'Worship and Mission.'
This was largely realised in the late 19th and early 20th Centuries when there were plenty of ordained clergy – the local congregation gathered around its own church with its own pastor who visited and knew his people and lived and played their part in the community. They had the freehold and often stayed twenty years or more, sometimes a lifetime which is important and effective in mission. All the ministries were not exercised by one person – clearly in the Body of Christ there are many limbs and organs – the gifts are present in the diversity of the congregation – administrators, treasurers, readers, churchwardens, teachers etc. – that should include 'priesthood.' The breakdown of clericalism is to be welcomed. Ministries which should belong to the local church – including priesthood, have been packed in a suitcase and handed over to travelling salespeople.
The Christian ministerial priesthood is not a 'profession'
What has been created is an Old Testament idea of Priests resulting in priests, beneficed and retired going down every Sunday from the equivalent of Jerusalem to Jericho to take services. The Christian ministerial priesthood is not a 'profession.' Since the 19th Century the clergy have modelled themselves on the secular professions – like medicine and the law – largely the products of 'theological colleges' which were set up in the 19th Century – giving training and expertise for which they were paid, and a sense of aptness symbolised by titles and clerical dress. None of this has anything to do with Christian Ministry.
The Minister's relationship is with his/her Bishop and local clergy and laity whom they serve – primarily not a 'body of clerics' – set over against the faithful or laity.
Rights and responsibilities of the local church
Nowhere in the Bible do we find that men were invited to offer themselves for the Priesthood. Vocation, in the sense of an individual call to a particular task, came not directly from God but through the Body of Christ. In the 5th Century, the initiative seems to have come to the local community, who, needing a priest, chose one of their number – like Churchwardens – not the person wishing to be ordained, but of the local church wanting him. Throughout the Bible, from Moses through to Israel and Jeremiah, the ones chosen were not those who pushed themselves forward. 'Who? Me? I am a child; I cannot speak.' And the later example of Ambrose who became a Bishop reluctantly by popular acclamation.
The schemes to develop lay leadership and local non-stipendiary ministry, are moves to unpack the suitcase and restore to the local church its rights and responsibilities. Many local churches, particularly in rural areas now appear unable to produce leaders and ministers of their own, e.g., churchwardens. In the pre- Nicene Church, following the pattern of the Synagogue, a Christian community of twelve heads of families could be recognised as a church which then acquired a priest or leader chosen from among their own number, and for a celebration of the Eucharist at which he presided. There are many country churches today which could not muster twelve heads of families even at Christmas and Easter. Such ecclesiology would either spur the local congregation to sort itself out and grow, meanwhile being maintained as a 'missionary church,' or such churches would have to be closed as being non-viable.
Ministry as an integral and organic part of the Church's life
In the 1930s our present troubles were foreseen by a man who was undoubtedly a true prophet, Roland Allen, who had experience in the mission field and foresaw the same circumstances arising in England which have now come to pass. Pastoral re-organisation should not be dictated by culturally-determined prejudices, or by historically determined pattern – but by a sound ecclesiology. Allen, no less than Schillebeeckx, believed that ministry ought to be seen not as external to the Church but as an integral and organic part of the Church's life. It is an understanding of the local churches as a motor coach with its own built-in engine as opposed to an understanding of the local churches as railway coaches waiting to be made up into a train and supplied with an engine to pull them.
Brian Harris
---
DEMENTIA AND WHAT CHURCHES CAN DO
by Damian Murphy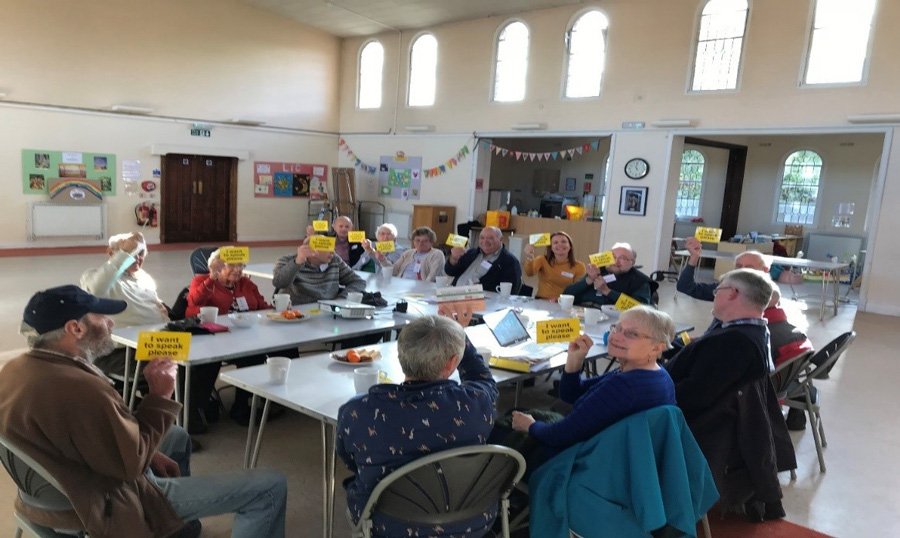 A few things to know and remember about dementia
I was delighted to be asked to write an article for the November issue of Touch Base as I was reminded it is a month in which the Church keeps All Saints' Day, All Souls' Day and Remembrance Day/Sunday.
There is an easy route to go down by calling for us all to 'remember those who forget' and for me to talk in clichés about what a dreadful disease this is that robs us of our loved ones who might live on a hopeless path of decline.
However, in this article, I want to draw upon the conversations I have had for many years in my work with and alongside people living with dementia. I hope also to issue a challenge for us all not only to continue to welcome people with dementia within our communities but also to enable and support people with dementia to reveal how much of a resource to your own church community and mission they can be.
Some Myths and Misconceptions
We have all seen the clichés in the media articles about dementia including:
Talking of people 'Suffering with dementia'
Talking of a 'Living death'
Mention of a 'Dementia Tsunami' or the 'Dementia Timebomb'
All such headlines only serve to perpetuate a negative impression and a completely unfair portrayal of people living with a diagnosis of dementia.
People with dementia will tell you now, 'It's not the dementia that makes us suffer!'
People with dementia are not terrorists, so associating them with death and destruction is unfair.
People with dementia are not zombies, yet they are so often put into the realms of the already-dead.
I remember a friend of mine, Richard, who, when asked what was his biggest complaint about living with dementia, summed it up in two words….'Other People!'
That's us. We are the 'other people'. Although there is no cure for dementia, there is so much we can do because there is so much we currently do to make things worse! Why rub it in?
A tiny bit of science
Liz, a former nurse living with dementia gave the best definition of dementia. 'Well it's your brain cells dying isn't it?' She was spot on.
Dementia is the umbrella term for what could be hundreds of different illnesses that cause progressive death of brain cells. The most common killer of nerve cells in the brain is Alzheimer's Disease.
It sounds hopeless and scary and that is what nearly everybody I know says about how their diagnosis was delivered to them. But they don't tell people that we've got about 100 billion brain cells and we don't lose them all in one go – so life goes on! People have a right to continue as citizens, family members and members of their church communities.
Diagnosis (and the world around, as mentioned above) brings a huge blow to confidence, self-esteem, voice, choice, control, agency and identity. We all have a role in supporting recovery in these areas and to build on the changing narrative around dementia …
The changing narrative around dementia
People with dementia used to say, 'I can't do this, that or the other because of my dementia'. In recent years that has changed to 'I can't do this, that or the other because YOU haven't made it accessible for me, because YOU have over protected me, because YOU have not put the right signage up, because YOU have not included me, asked me or consulted me!'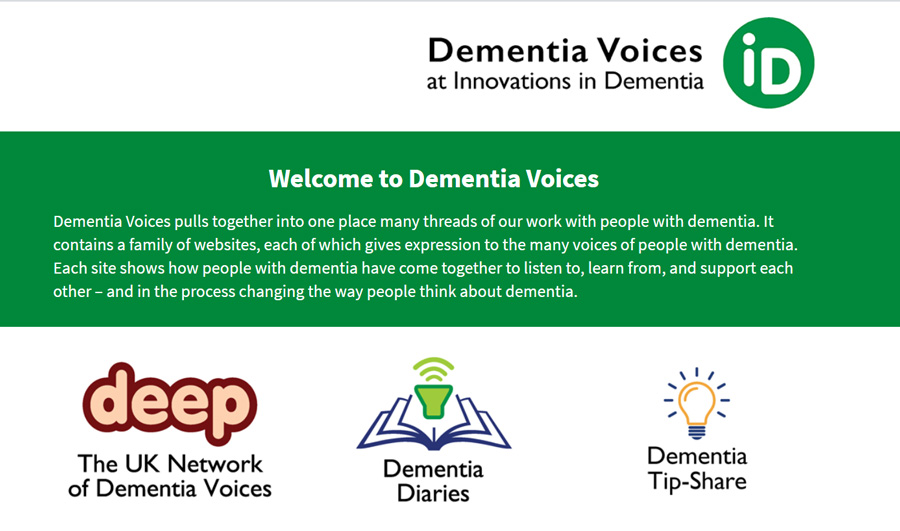 The narrative is now very much about what people CAN do, about rights and access and increasing activism. Here in York I help facilitate a peer group of people living with dementia called Minds and Voices. We are part of DEEP, a growing network of Dementia Voices of about 80 such groups across the UK. You can read all about Minds and Voices and what we've got up to here, including running our own research project, and writing our own dementia strategy for York.
If you want to find out what people with dementia across the country are saying about anything, then another invaluable resource is the brilliant Dementia Diaries – Of course you can talk with people locally, friends, relatives or members of your congregation who might be living with a diagnosis of dementia.
So, what can we do?
My own mother-in-law is often a fish out of water when out, but she is very much at home during church services. The beauty of ritual is so reassuring, as is the familiarity of regular services and the responses and hymns.
You can obviously do your thing!
As a church community there is a great strength in being able to 'hold' fellow parishioners and that will come easily in being able to compensate for some difficulties. Welcome is always so important and repeatedly using your own name and that of the person in conversation really helps. 'I have called you by your name!'
Tea and sympathy of course, has always been a strength.
But there is a greater challenge – that of building on the strengths of individuals living with dementia and tapping into the resource of people living with dementia themselves.
Some of you may have received the Dementia Friends awareness sessions in the past. They are helpful as the most basic of introductions but often leave people asking questions about how to respond if people are experiencing strong feelings or a different reality, for example. Alongside members of Minds and Voices we can support further learning on 'Engaging in Everyday situations' sessions.
People with dementia have a huge amount to bring to your church community in many ways.
With your support, encouragement and facilities they can:
help co-design and deliver learning around dementia within and across the churches in York, and to the wider York community.
help equip you to play a proactive role in providing support for people with dementia and their supporters as part of a wider York Dementia strategy.
help create a growing network of peer support across York.
help you lead on providing a safe space for shared learning for those recently on the receiving end of a diagnosis often delivered without hope as mentioned above. You can watch a 5 minute video of the 'Good Life With Dementia' course here
By being in 'union with' literally help build Communion
In Summary
Rather than looking back and focussing on what has been lost, in this month of remembrance, then, I ask you not to focus on the deficits of people with dementia but to:
Remember that although dementia might be life-changing, it certainly is not life ending.
Remember to focus on the gifts, strengths and many talents of people with dementia.
Remember the capacity of people with dementia to learn and teach new things to each other and to you.
Remember that it's not the dementia that makes people suffer!
I have not mentioned the important role of care partners in this article – not because they don't play a huge role (they do!!) but because, in an age when there is much talk of levelling up, it is time to give due coverage and to heed the voices of people living with dementia.
By unleashing the potential of people with dementia; fomenting the power of peer-to-peer support; by supporting recovery of voice, choice control and identity of people with dementia; and thus by addressing both sides of the caregiving relationship together across our church communities, we can go so much further than tea and sympathy in improving the lives of everyone affected by dementia. So moving towards Advent there is a message of hope in there too!
More Information
For more info please feel free to contact
Damian Murphy
Director, Innovations in Dementia CIC and
Facilitator York Minds and Voices
Twitter: @elhijodevera
Damian@myid.org.uk
To speak to Damian direct, phone 07927 405 854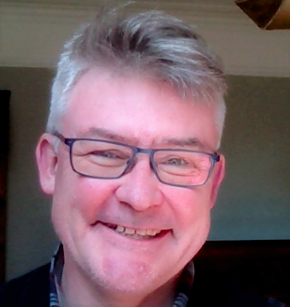 ---
NEWS AND NOTICES
ALL SAINTS PAVEMENT – FOUNDATIONS OF FAITH
A Series of Talks at Evensong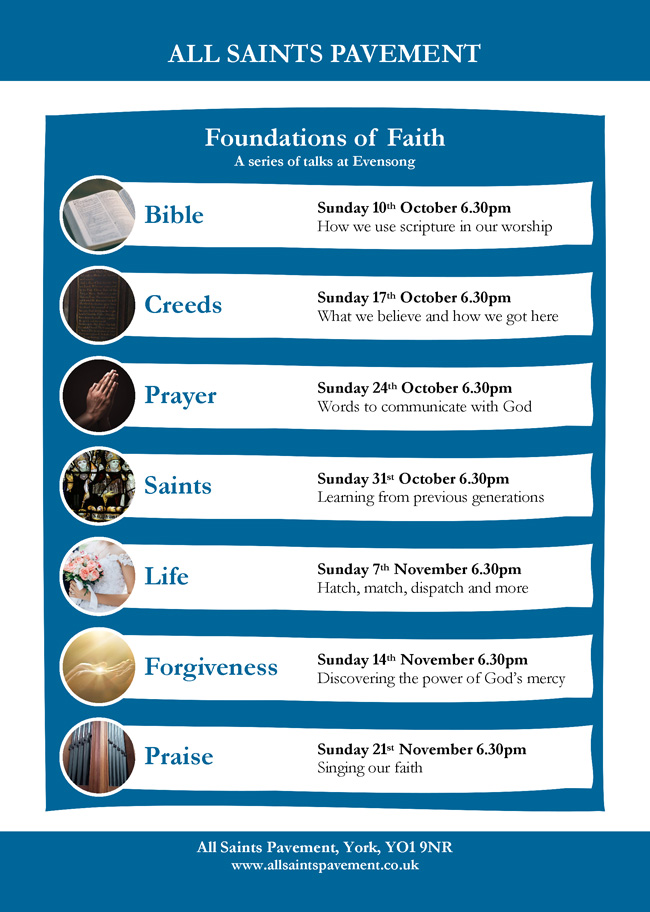 ---
FRIENDS OF ST DENYS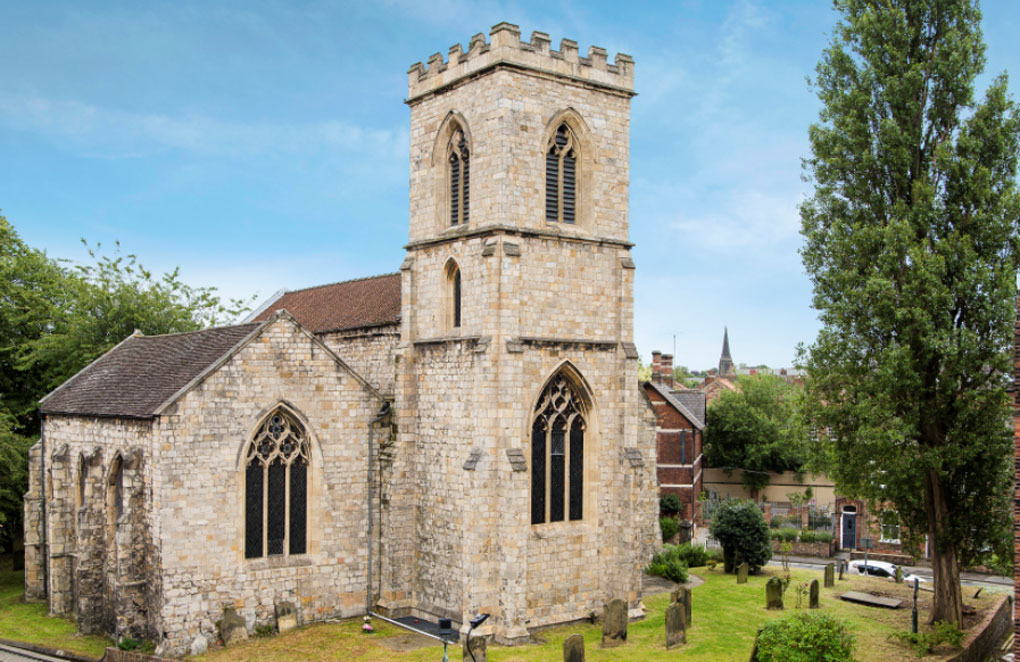 The Friends of St Denys' series of three (free) 'Stories from St Denys' on the theme of Pilgrimage concludes with:
On 22nd November, 'Desperately Seeking Mary': an exploration of Marian pilgrimage.
The talk will start at 6 pm and refreshments will follow at 7 pm. We hope to offer BSL signing.
---
BRAHMS EIN DEUTSCHES REQUIEM – YORK MINSTER, SATURDAY 13 NOVEMBER
The Chapter House Choir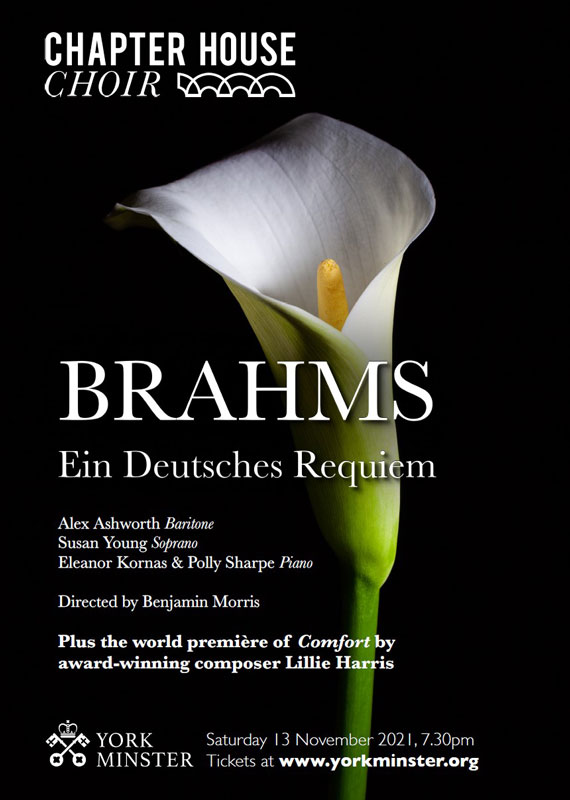 On the eve of Remembrance Sunday, the Chapter House Choir will be performing Brahms' Ein Deutsches Requiem in York Minster.
The choir will also be performing the world première of Comfort, inspired by the same text.
Blessed are they that mourn: for they shall be comforted.
Blessed are the dead … that they may rest from their labours; and their works do follow them.
For all flesh is as grass, and all the glory of man as the flower of grass. The grass withers, and the flower thereof falleth away.
… so will I comfort you.
This concert has been postponed from March 2020 and is in memory of those who have died as a result of the Covid-19 pandemic.
Buy your tickets from the York Minster website here.
---