Editor: The Revd Canon Derek Earis
Contents
---
MOVING ON: LETTER FROM ST JOHN STREET
by Revd Canon Derek Earis
Dear Friends,
The theme "Moving On" for this issue seemed to me an appropriate one from many standpoints. Liturgically this May is very much the month for "moving on" in our faith. It contains a dramatic and glamorous series of Festivals held close to one another. First Ascension when Jesus "moves on" from an earthly form at the top of the mountain to being at "the right hand of God". As he disappears from the view of the disciples, they are no longer bereft but rejoice that he has gone to be with the Father "risen, ascended, glorified" as the hymn has it.
Then there is the great Christian festival of Pentecost or "Whit Sunday". Here the disciples are given new courage to leave their hiding place of the upper room and go into the market place to proclaim the good news of Jesus Christ. They do so with such enthusiasm that they are accused of being drunk. The Spirit rests upon them and they find they can communicate with what the Prayer Book would call "all sorts and conditions". The Holy Spirit moves the Church on from being a small sect to a missionary organisation designed to change the whole world. In our personal lives the Holy Spirit also moves us on to right desires, to heavenly wisdom, to wise counsel on what we should and should not do in the ever changing times.
Then there is the Festival of the Holy and Undivided Trinity which seeks to summarise our faith and keep it true to itself. The strong bind of the Trinity reminds us that we need to grapple with understanding the Divinity, Father, Son and Holy Spirit, moving on from simplistic notions. But also in the end this is a holy mystery which we can't fully explain. It is a reminder that in this life we never finally "make it". There is always more to discover, to understand.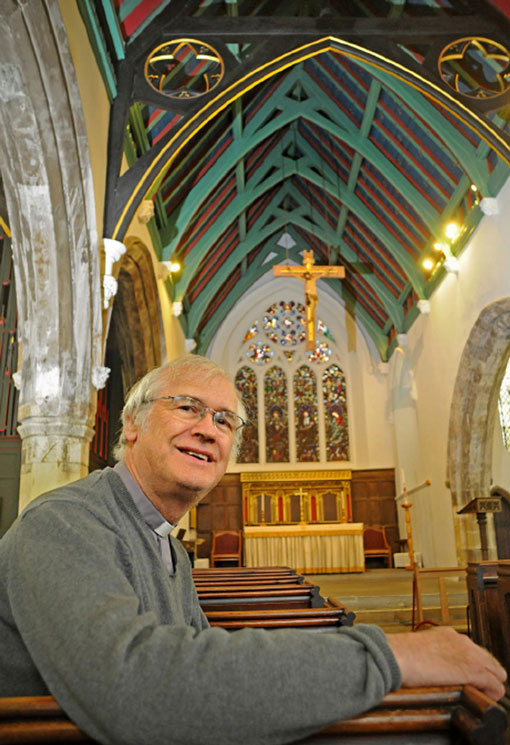 Finally from my point of view there is a life-changing moment of moving on in the sense of retiring from my present post. It has been a fascinating experience and both Mary and I have greatly enjoyed your company and encouragement as together we all seek to grow in the faith. My retirement is not as dramatic as it might have been in that it is some time since I worked full time. Nevertheless it is significant and a moment to be marked. Personally it frees me up to, as one parishioner put it, "refocus my energies". Yes, I will be back and helping if that help is required but not for six months or so. This will enable Liz to build up her new team and I'm sure you greatly look forward to the arrival of Nicky Gladstone, the new Curate for the City Centre who is arriving at the end of June.
Retirement is indeed a life changing moment, and this issue contains two accounts of how this has been approached – one clergy (Gwynne) and one laity (John). It is one many of you will already have embraced and many more will be preparing for in one way or another.
"Moving on" is an inevitable part of human experience and this issue also explores other aspects of it. I hope you enjoy reading it and that all of us will be reminded that God is God of the past, present and future. Nothing is beyond his reach but wherever we are and at whatever stage he holds us by the hand, seeking to lead us and guide us into his way of love.
With every blessing,
Derek
Thank you, Derek, for your work as editor of Touch Base during the last year. Enjoy your well-deserved retirement!
---
MOVING ON: WOULD YOU LIKE TO BE GUEST EDITOR OF TOUCH BASE FOR A MONTH?
For the next few months – following the example of a well-known satirical news programme – Touch Base will have a series of guest editors, each responsible for gathering the content for just one edition. If you would like to try your hand at this (it really isn't onerous!), please contact Revd Liz – her contact details can be found on Who's Who – York City Centre Churches.
---
MY FIRST 100 DAYS AS PRIEST IN CHARGE
by Revd Liz Hassall
When Derek suggested this as a theme for an article, I was somewhat amused since my first 100 days here did not go at all as I had hoped. The priority, when beginning in a new parish role is always to get to know people and to lead worship. Both of these things became increasingly difficult as lockdown was implemented. However, it was certainly an interesting time (yes, that's a Terry Pratchett reference).
The 100 days takes us from 15th December 2020 through to 26th March 2021. Cast your mind back to mid-December and perhaps you remember that we were able to worship in person but that many of the larger carol services were online only. My licensing was a much smaller affair than is customary but it was good to be able to meet a few people. Although hospitality is something we are not able to do, I loved seeing everyone leaving the service clutching mini Christmas cakes. This bodes well for the future as I am firmly of the opinion that cake is an important part of Church life. The number of people knocking on our front door and leaving gifts and messages really helped us all to feel welcome here.
Fast forward to the new year and I returned from a much needed Christmas break (who knew that moving house and changing jobs would be so tiring?) into another lockdown. Three weeks into a new role and we made the decision to stop in-person worship at all our churches unless necessary for recording or streaming services. With the new variant of the virus in the ascendancy and so much uncertainty, we had little choice. As I wrote back in February, this was sad but necessary.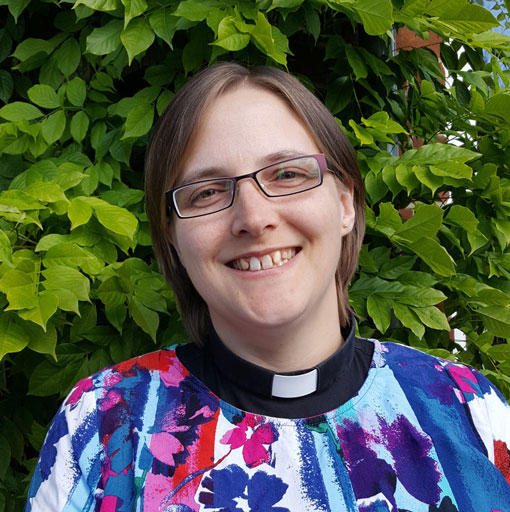 As well as changing how church had to happen, we also had to change all our family routines as the children switched to homeschooling. Thankfully, most of the burden of homeschooling was taken on by Phil but I fell into the role of final arbiter of disagreements. We were all very relieved when schools reopened and Jenny could finally meet her new school-friends in person. I feel similarly now that we are able to meet for worship in the buildings again now.
With lockdown in force, my attention turned to what was still possible. It is surprising how much can continue using various online platforms. I spent quite a few sessions having coffee and chatting over Zoom with people brave enough to take up the offer of a chat. Even PCC meetings were possible, although it is harder to read the room and understand what people might be thinking rather than saying. It has also been possible to continue with preparations for baptisms, weddings and funerals – I'm missing being able to hold the babies when meeting baptism families, definitely one of the perks of the job in normal times.
The 100 days brings us through almost to the end of Lent. Lent was enlivened by a good group of people who met online for a Lent group and our worship continued, with the various churches beginning to welcome congregations again.
As I look to the future – to the next 100 days and beyond – the questions I am asked most often are "when can we sing?" and "when can we offer hospitality again?". I really hope the answer to both of these questions is "soon". More than a year without singing hymns together has been hard. I'm looking forward so much to being able to join in again. Alongside these practical questions, we have other matters to consider: what have we learnt from this time and how will our experience of church change in the longer term?
One final observation I have is to ask you to remember that I have never seen what happens normally in our churches so, as you all look forward to returning to normal, forgive me if I have to keep asking what normal is!
With best wishes and prayers,
Revd Liz
---
MOVING ON: WHAT NEXT FOR OUR CHURCHES?
by Revd Liz Hassall
If you are interested in how our churches are run and what our plans are for the coming year, I encourage you to come along to the annual meeting, known as the Annual Parochial Church Meeting (APCM).
This year, we are meeting separately in our parishes. After such a tumultuous year, these meetings will give us an opportunity to take stock, look at what we have and haven't been able to do and consider our plans for the future.
St Helen & St Martin – Monday 17th May at 7.30pm at St Helen's church
St Denys – Sunday 23rd May after the 10am service
St Olave – Thursday 27th May at 7.30pm in church
All Saints Pavement – Sunday 30th May after the 10.30am service
Anyone on the relevant church electoral roll is welcome to attend and contribute to the meeting.
Each meeting will begin with the shorter meeting to elect the churchwardens for the coming year. These shorter meetings are also open to anyone resident in the relevant parish.
Revd Liz
---
INSPIRATION IN POETRY: PENTECOST
by Janet Fox, Reader
Speaking in Poetic Tongues
We are nearing the end of the season where feast has followed festival for also 50 days with only Trinity Sunday remaining before we reach Ordinary Time once again – and Pentecost is one of the most exhilarating celebrations, particularly where words and inspiration are involved.
Finding verse that celebrates the descent of the Holy Spirit proved more of a challenge than I would have expected. There are, of course, poems like 'God's Grandeur' by Gerard Manley Hopkins, but I feel that this is the sort of thing that needs to be listened to rather than just read and pondered. Although, in the light of Pentecost, maybe this is what we should do – listen more carefully. But I have come up with a couple of contrasting examples that do 'speak' from the page rather than with a voice.
To begin, I have a modern 21st century sonnet by Malcolm Guite, called 'Pentecost'.
Today we feel the wind beneath our wings
Today the hidden fountain flows and plays
Today the church draws breath at last and sings
As every flame becomes a Tongue of praise.
This is the feast of fire, air, and water
Poured out and breathed and kindled into earth.
The earth herself awakens to her maker
And is translated out of death to birth.
The right words come today in their right order
And every word spells freedom and release
Today the gospel crosses every border
All tongues are loosened by the Prince of Peace
Today the lost are found in His translation.
Whose mother-tongue is Love, in every nation.
It is delightfully descriptive and full of the hope and joy that this feast should bring to us all. Every glorious aspect of the arrival of the Holy Spirit is explored and celebrated in just fourteen lines. A poem that, indeed, can be read and read again and indulged with pleasure. My second choice is even shorter, and much earlier, and appeals to me rather more because it puts more of the onus on the reader to grasp the inspiration. William Blake (1757 – 1827) is probably better known for such works as 'Jerusalem', 'The Sick Rose', 'The Tyger' or 'The Lamb' etc. but I find his take on Pentecost both simple and moving. Again, just called 'Pentecost'.
Unless the eye catch fire,
The God will not be seen.
Unless the ear catch fire
The God will not be heard.
Unless the tongue catch fire
The God will not be named.
Unless the heart catch fire,
The God will not be loved.
Unless the mind catch fire,
The God will not be known.
Quite a contrast to its more modern counterpart, but equally worthy of being read, read again and indulged in.
Janet Fox
---
MOVING ON: RETIREMENT AND RE-TYREMENT
by Revd Dr Gwynne Wright
Retirement is one of those life events that we can happily anticipate and hopefully will be blessed to enjoy. With my step-children in York, Manchester and London and grandchildren in York and Leeds, I'd anticipated retiring to York for some time. Having visited at least once a year for the previous twenty years, I thought I knew what I was in for!!!
In spite of all the good advice of many people to spend the first year of retirement simply assessing one's priorities, I ignored the advice and did the opposite. The complexities of the move — selling my home in Chicago suburbs and buying a bungalow here, shipping household goods — and dogs!, and all the immigration issues — were almost a full time job in themselves. Nonetheless I arrived in York and jumped right in! Within that first year, I became a guide and honorary chaplain at the Minster, served in the City Centre Churches, volunteered as chaplain at the hospital, conducted quiet days on Julian of Norwich at the Bede Centre, and became involved with dog clubs and training. I quickly became known as 'the American Woman Priest'!! I also learned to appreciate visiting so many wonderful locations of English history and took advantage of travel opportunities.
I felt well suited to my new ministries and loved learning about the city of York and meeting so many wonderful people. After about eighteen months, I was able to do some of that assessing that had been recommended and I fell into a regular rhythm. Friends said I had 'failed' at retirement!! When I had a conversation with Archbishop Sentamu, he suggested that I really had 're-tyred', put some new tread on the tires and was working for Jesus.
Now seven years later as we are coming out of the lockdown of this pandemic, I am once again discerning what I am called to do. Obviously, several of my regular activities were suspended during this past year. Some won't be the same as they were. I'm not sure I am the same as I was. So perhaps it is once again time to reassess where I am called and how I can best serve. Even in retirement we are always discerning. I am always reminded of Jesus' call from Matthew 11:
"Come to me, all you who are weary and burdened, and I will give you rest. Take my yoke upon you and learn from me, for I am gentle and humble in heart, and you will find rest for your souls. For my yoke is easy and my burden is light."
Gwynne Wright
---
HANS KÜNG: A THEOLOGIAN WHO HELPED US ALL TO MOVE ON
by Canon Dr Malcolm Grundy
If there was a 'hot spot' for the study of theology in the last 50 years, it was the university town of Tübingen in the Baden-Württemberg region of southern Germany. There, through parts of the 70's and 80's were Hans Küng, Josef Ratzinger (later Pope Benedict XVI) and Jürgen Moltmann. At this time we remember Hans Küng who died on 6th April this year aged 93. He was a prolific writer, often controversial in his opinions and a passionate conservationist.
He was born in Sursee in the Swiss Canton of Lucerne in 1928. His father developed a prosperous shoe manufacturing company. He built two holiday houses on the shores of Lake Sempach for the family, one of which in later life Küng used as a retreat and as a place for writing. He studied philosophy and theology at the Pontifical Gregorian University in Rome and was ordained in 1954. He worked in a Lucerne parish for two years but had already begun lecturing and writing.
He taught for a year at the University of Münster and then, in 1960, was appointed Professor of Fundamental Theology in the University of Tübingen. He launched his writing career that same year with The Council, Reform and Reunion in which he outlined much of what became the programme of the upcoming Second Vatican Council. In 1962 he was appointed peritus, serving as the youngest expert theological advisor to participants in the Council until its conclusion in 1965.
The controversial breakthrough came with his doctoral thesis published in English in 1964 as Justification: The Doctrine of Karl Barth. It identified a number of areas of agreement between Barthian and Catholic theologies of justification, concluding that the differences were not fundamental and did not warrant a division in the Church. The book included a letter from Karl Barth attesting that he agreed with Küng's representation of his theology. Controversy ensued and the Catholic Church, it is said, opened a file on him at this time.
Undeterred he continued to produce major influential books. In 1971 he became the first major Catholic theologian to make a public rejection of the doctrine of papal infallibility in his book Infallible? An Inquiry. It was published three years after the Vatican had first asked Küng to address accusations against his earlier volume, The Church. After the publication of Infallible, Vatican officials requested he appear in Rome to answer charges. Küng stood his ground, demanding to see the file the church had amassed and to speak with whoever was evaluating his work. On 18 December 1979, he was stripped of his license to teach as a Catholic theologian. He remained a priest of the Diocese of Basel for the whole of his life.
Since he could no longer teach in Tübingen's Catholic faculty, the university removed the Institute for Ecumenical Research, which Küng had founded and had headed since the 1960s, along with his professorship, outside of that faculty's jurisdiction. Küng continued to teach as a tenured Professor of Ecumenical Theology until his retirement in 1996. He told the story of his turbulent life in two volumes of autobiography, My Struggle for Freedom (2002) and Disputed Truth (2007).
In the 1990s, Küng initiated a project called Weltethos ("Global Ethic"), which is an attempt at describing what the world's religions have in common, rather than what separates them and at drawing up a minimal code of rules of behaviour that everyone can accept. His vision of a global ethic was embodied in the document Towards a Global Ethic: An Initial Declaration. This Declaration was signed at the 1993 Parliament of the World's Religions by religious and spiritual leaders from around the world. In 2001 this project would culminate in the United Nations Year of Dialogue Among Civilizations to which Küng was named as one of 19 "eminent persons".
Just how many books he published over a long lifetime is difficult to calculate, given the various editions and different translations. His official bibliography runs to 140 pages and includes more than 70 books. His range of interests means that he is not known for one school of theological thought. Küng has said, "Looking back I can say that in the 1950s I dealt with the problems of personal existence and justification; in the 1960s, the problem of the Church, renewal and ecumenism; in the 1970s, the basis of Christianity, with On Being a Christian, Does God Exist and Eternal Life? in the 1980s, Christianity and world religions; and in the 1990s, finally, ethics." Some of his other books fall outside these categories including St Thomas More, Freedom in the World, published in 1965 and Mozart: Traces of Transcendence, which came out in 1992.
He loved skiing, drove a sports car, and had a mischievous sense of humour. Once asked if he would have liked to become Pope he said, 'Oh no, then I would not have been infallible'! Ursula King, Professor Emerita of Theology and Religious Studies in the University of Bristol has written, 'the photographs of Küng in his later years often show him smiling broadly. He had mellowed and was at peace. Even though some remember him as a severe critic, he was a man of great openness, deep hope, happiness, and warmth. His friendship and his humanity will inspire me until the end of my days, and his far-reaching vision of non-violence, justice, truthfulness and partnership will inspire generations to come'.
In 1982 Küng turned a series of lectures into an enormously pastoral and helpful book Eternal Life? For this great and influential Christian man, it is speculation no more.
Malcolm Grundy
---
AN ENCOUNTER WITH PRINCE PHILIP
by Tina Sanderson
Recently we have been preoccupied with the Duke of Edinburgh's death – another example of moving on – this time in the life of the nation. Derek has asked me to write about the time that I met the Queen and Prince Philip when they came to distribute the Maundy Money at York Minster in 2012.
Maundy Thursday, 5 April 2012
When the Maundy Money was distributed in York in 2012, Dean Keith Jones invited all the heads of departments and their spouses to a reception at the Deanery after the service. My husband Peter was Ringing Master at York Minster and so we had the privilege of being invited to the reception, and were introduced to the Queen and the Duke of Edinburgh.
As usual, the bells and carillon were rung before the service and the bellringers had to remain up in the ringing chamber until after the start of the service, so we had a bird's eye view of the royal party entering the Minster. Rule Britannia was played on the carillon as the royal car drove up to the building!
The reception was in the library of the Deanery. The Queen, Prince Philip and Princess Beatrice circulated separately and we were introduced to them all. Prince Philip was well-known for his sense of humour and was highly amused during the service: the Queen had moved through the choir as they were singing "God save the King" (from the anthem Zadok the Priest by Handel)!
The words for Zadok the Priest are:
Zadok the Priest, and Nathan the Prophet anointed Solomon King.
And all the people rejoiced, and said:
God save the King! Long live the King!
May the King live for ever,
Amen, Alleluia.
An alternative approach was used at evensong in Durham Cathedral on the day of the Queen's accession (another time of moving on in the life of the nation) on 6th February 1952. John Hastie was a chorister there at the time, and relates how the choir was instructed to change the words and sing:
Zadok the Priest, and Nathan the Prophet anointed Solomon Queen.
And all the people rejoiced, and said:
God save the Queen! Long live the Queen!
May the Queen live for ever,
Amen, Alleluia.
If Prince Philip had known this he would have been even more amused!
Tina Sanderson
---
MOVING ON: CREATING A FRAMEWORK FOR ENJOYING RETIREMENT
by John Stanton
Never feeling comfortable with change or the unfamiliar, I have always been happier with life when it follows a familiar routine, when I can be reasonably sure of how things work, and what to expect. Change has not been something that I can embrace.
Looking back to before I retired, my weeks as a paediatric dietitian in Manchester followed a pattern, my time divided between clinical work and managing the department. Monday mornings were always spent in visiting wards to see how my young patients had been progressing over the weekend; talking with the nurses, parents, children and doctors, looking at charts and the Cardex, the feed and food intake, the changes in weight. The afternoons were centred around Gastroenterology outpatient clinics, dealing with new referrals, and perhaps dictating letters to GPs and consultants. Tuesday mornings involved preparation for the coming afternoon's ward round, which latterly was always a two-hour sit-down affair with the team; doctors, a nurse or two, pharmacist, clinical pathologist, and myself, all in a side room sitting around the notes trolley. Wednesday afternoons usually saw departmental meetings, Thursday mornings my own Outpatient clinic, and on Friday mornings another ward round.
All of this was of course overlaid with the usual phone calls, e-mails, dealing with correspondence and management tasks … Such was the pattern of my working weeks that enabled me to give of my best for the benefit of my patients. Naturally, developments in medical and nutritional science, and the necessity of keeping up to date by reading and attendance at meetings required changes in practice over the years, so nothing was set in stone. Changes were usually small and incremental, involving judicious pruning and adaptation of the status quo to accommodate new ideas, new treatment, innovative feeds, and new patients – all of whom were unique.
Meanwhile, in the background and indeed all through my career, changes followed changes as the management structure of the health service was altered. The Manchester Area Health Authority was abolished, setting free its three Districts; Central, South and North. Hospitals were closed and in my own hospital, wards were closed. Managerially, my hospital was moved from the North Manchester District Authority to Salford Health Authority, then amalgamated with the other children's hospital. Eventually, with the advent of NHS Trusts, the Manchester Children's Hospital Trust was created, amid the emerging certainty that both hospitals would be closed and moved to a newly-built children's hospital next to the Manchester Royal Infirmary on Oxford Road. Small wonder that the morale of all staff fell, and at all levels they were anxious about what the future held for them.
Thus, I was faced with a choice. I couId either stay on and try to fight against what I saw as the unnecessary imposition of a new matrix management structure on departments that had hitherto reported directly to hospital manager level, or I could retire. Robert Frost wrote in his poem, The Road Not Taken…
Two roads diverged in a yellow wood,
And sorry I could not travel both
And be one traveler, long I stood
And looked down one as far as I could
To where it bent in the undergrowth;
Then took the other…
In my experience', the word 'new' is not always synonymous with 'better', or 'improved, and can sometimes mean 'worse'. I disagreed strongly with many of the proposed changes, and could not understand how they were going to improve the care and treatment of our patients. By then, I'd had enough of restructuring and health service politics, so about six months before the move and seeing what was coming, I decided upon an early retirement. After I'd gone, and when the move to a single new building had occurred, I was not surprised to learn that the children's hospitals were completely subsumed, shoehorned into the management structure of the Royal Infirmary.
Despite ambitions for our future, spending more time at home with Christine and the fact that our twin sons had moved on to university, I was unprepared for the shock of retirement. For years I suppose, I had identified so strongly with my role as a gastroenterology specialist dietitian, that without it I was lost and no longer knew who I was. Outside the context of hospital and with no patients to care about, I felt that I had no identity and was of no value to others. I no longer had my role or status within the organisation, and I missed those people with whom I had worked and shared a common purpose, my colleagues and workplace friends. I missed the children. I had always had interests and hobbies – railway modelling, following county cricket, music, our garden, and involvement at church, but what I had not appreciated was how much I would miss the daily routine and above all, my patients. I even missed my 'bleep' – no-one needed me! Retirement was clearly not at all what I had imagined it would be.
I've had to find a routine and a purpose, but it took several years to construct a new modus vivendi. I was already a church warden, complementing Christine's role as treasurer, and my new-found freedom from work enabled me to assist the Vicar and my church warden colleague with matters such as mid-week services, funerals, and care of the church fabric. Thankfully close involvement with the life and worship of our church provided a framework for the new life.
Music has been a great solace since my teens. I had always enjoyed singing, although at school our music master had never bothered to audition us to find out whether or not we could sing, and we didn't learn much about music from him. It was one of the English department's masters who introduced us to Til Eulenspiegel by Richard Strauss and the school chaplain who played Haydn's Creation to us. In Manchester the church choir was quite small, and we did not have the vocal resources to attempt any music that was more than moderately difficult. So, after retirement I auditioned for Bury Choral Society, which opened up new challenges, and introduced me to music that I had never imagined I would sing. A choir of course enables one to meet new colleagues who become friends, all working as a team towards a common goal – the concert at the end of term! I found that for me, nothing quite matches the buzz, the thrill of performing a great piece of choral music before an audience.
Christine and I spent our last two years in Manchester improving our home so that it might be an attractive proposition to a prospective buyer, and April this year saw the fifth anniversary of our move from Prestwich in Manchester to Wigginton. Since 2016 we have put a good deal of time and effort into turning our new house into our home. Behind the house we removed overgrown and ugly Leylandii hedges as well as what seemed like acres of old decking to create an attractive and colourful garden where we can grow a variety of fruits as well as flowers and shrubs. Christine has a greenhouse to cultivate seedlings and tomatoes, but sadly, despite much effort on my part the grass is still not fit to be called a lawn. I'll keep working at it.
More time spent on railway modelling allowed me to develop skills in model building. My woodwork – not good enough I'm afraid to be classified as carpentry – has finally produced a large layout where I have constructed all the buildings, the track, and either built or modified all the locomotives and most of the rolling stock. It is now a fairly accurate model of Camelford station on the former North Cornwall line of the Southern Railway, but work to improve it and to build more locomotives will continue. Model railways are never finished.
Volunteering at the National Railway Museum has enabled me to meet new like-minded enthusiasts. On the large O gauge Model Railway, I also get to 'play with' and repair the O gauge models which, twice the size of my own, are another challenging experience from which to learn!
Without singing, the past year has been hard, and I do worry that I may have forgotten everything that I learned and worked had to improve since joining the York Musical Society, and the choir of St Olave's. When a full choir is allowed once more, I fear that I may be somewhat 'rusty', but having done it once, I can work hard at it again.
Looking back, I can see that life from the cradle to the grave is one long succession of new experiences, changes in circumstances, challenges, choices, decisions, compromises and adaptations. Although to a certain extent one can plan how one wishes to live life, one can never know what will actually happen. All of us are subject to unexpected adverse occurrences. Apparently, when asked what were the greatest challenges to his administration, Prime Minister Harold Macmillan is said to have replied, "Events dear boy, events". In retrospect, I believe that I tried to create structure and routine at work, and that enabled me to perform to the best of my ability for the benefit of my patients. However, it could never cover all eventualities. In retirement, a new and less formal framework of interests is helping Christine and me to enjoy the autumn of our lives.
John Stanton
---
A COMEDIAN'S PRAYER BOOK: BOOK REVIEW
by Revd Canon Derek Earis
Moving on in our prayer life…
A Comedian's Prayer Book by Frank Skinner
This small hardback published just a few weeks ago by Hodder & Stoughton is certainly refreshingly different. It is written by the well-known comedian Frank Skinner who comments in the introduction that "I've been a professional comedian for over thirty years and during that time, the religious believers I have met among my fellow japesters would, if assembled, just about fill a Vauxhall Corsa."
It is not a prayer book in the conventional sense. You could not, for example, extract from it a succinct prayer to read in public worship or in your private devotions. Rather it is a series of conversations with God. As you may expect the conversations are laced with humour but it is far from merely a joke book. It discusses and agonises over many profound themes including issues about good and evil, the content of the scriptures, ideas about salvation and judgement, Christian doctrine and Saints and other religious figures. In Skinner's words "I've taken my convictions, my questions, my fears, my doubts, my elations, and presented them in what I think is an eavesdropping-friendly form. Hell, judgement, atheism, money, faith and the X Men all feature." I found it highly stimulating and it made me think about what I believe and why.
Frank Skinner is a Roman Catholic and, as he says, "inevitably the book is a bit on the Catholic side in its understandings and imagery, though I doubt it would get a papal imprimatur". For me it captures humanity questioning the things of God but with a willingness to engage with the Divine, to listen and to learn. Good prayer is always about expressing a relationship with God. In our emphasis on using formal or liturgical prayers we can easily lose sight of our own personal relationship. In his book we have much to thank Frank Skinner for in correcting this. Do read this short book. It may well speak to you and once you start, I think you'll want to read on and engage with it.
Derek Earis
---